Mortal Kombat 11: Aftermath Re-Introduces You To Fujin
The last of the three DLC characters being added to Mortal Kombat 11: Aftermath gets a solo trailer as Fujin returns to the fray. The God of Wind first made his debut in the series in the weird platformers no one asked for, Mortal Kombat Mythologies: Sub-Zero, as an unnamed boss. He made his fighting debut in MK4 and, for a god that's supposed to be Raiden's equal with a different element behind him, he's been weak sauce in comparison. Seriously, he is the character you'll little brother created to fight alongside you on the playground and went for something mystic since you already took lightning. He's switched between cameo and fighter for years, mostly cameo in story endings up until MKX when he served as an NPC in the storyline attack on the temple.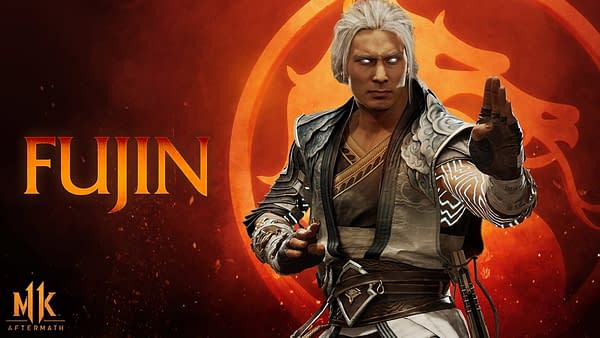 Fans have been begging to have him added back in, and now they finally got their wish. What's more, this version of Fujin actually looks like he can hold his own with almost a completely new series of attacks that utilize the wind and make him appear pretty badass. Enjoy the video below voiced by Johnny Cage (Andrew Bowen) and the official description of him from the devs as Fujin joins Mortal Kombat 11: Aftermath on May 26th.
Fujin is the God of Wind and serves the Elder Gods alongside his brother, Raiden, as a Protector of Earthrealm. First playable in Mortal Kombat 4, he's adept at inspiring goodness and heroism to conquer the forces of hatred and tyranny and fights to ensure Earthrealm's bright future. The immortal Fujin uses his sword and crossbow in combat and unleashes his powers as a God through a variety of wind-manipulating attacks to control his weapons, his movements and even his adversaries.