Netmarble is launching a new game in its line of games with their Stone Age intellectual property! Stone Age World is a new pet-collecting role-playing game for mobile devices of both the iOS and Android varieties, where you can collect upwards of around 250 different stone-age animals and even some dinosaurs!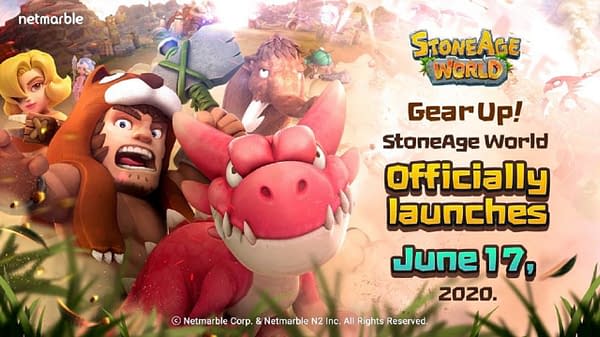 A full massively-multiplayer online role-playing game, Stone Age World will allow players to take the role of a Trainer, a neolithic warrior who seeks pets to tame and train in order to protect the land of Tectonika from any enemy forces that may come around.
You can find the trailer for Stone Age World by clicking on the YouTube video below:
According to Netmarble, Stone Age World's story premise is something along these lines:
As a turn-based mobile reimagining of Netmarble's online Stone Age RPG set in the land of Tectonika, players will embrace the role of "Trainer," a powerful warrior who collects, tames, and trains Pets to protect the land from enemies. With over 250 pets ranging from dinosaurs, wooly mammoths, pigs, wolves and more, players will have their hands full with defending Tectonika from unknown enemies from the up-and-coming Machine Civilization, and exploring prehistoric society and its unique quirks.
This game, seemingly inspired as a mash-up between Pokémon and The Flintstones, looks like it'll be a fun one to play in the days to come. Stone Age World releases to iOS and Android on June 17th of this year.
Are you looking forward to Stone Age World? Have you played any of Netmarble's other mobile games? Let us know how those games play and look out for this one when it comes out on a phone near you!
Enjoyed this article? Share it!