Ninja is the First esports Pro to Get an ESPN Cover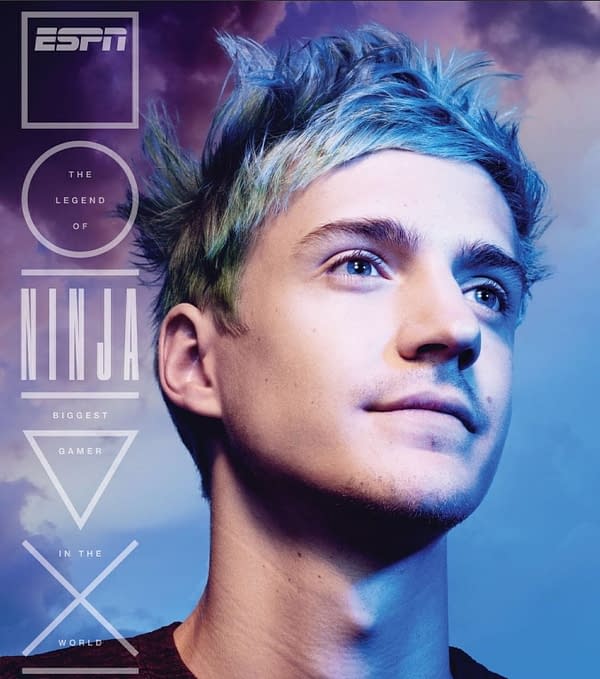 The most popular Fortnite player in the world, Tyler "Ninja" Blevins, will be the first professional esports player to be featured on the cover of ESPN The Magazine in an issue dedicated to video games and esports. The esports issue of ESPN will hit the shelves on Friday, September 21, 2018.
Even if you aren't a major Fortnite fantatic, you probably know Ninja. He's the streamer who has broken the Twitch concurrent viewer record twice now, and that first record broadcast came from a Fortnite session featuring himself and Drake playing the popular battle royale game. Ninja went on to break that very same record a few months later during a charity event in Las Vegas which totaled in at 667,000 concurrent viewers.
And if that wasn't enough, he's also the first Twitch streamer to reach 10 million followers on the streaming platform.
So, Ninja really is the obvious choice for the first esports player to grace the cover of ESPN.
The news made the rounds thanks to Ninja's twitter feed, but you can find more information on the rest of the ESPN issue thanks to Variety's report on the cover:
Ninja posted on Twitter Tuesday he's excited to be the first professional gamer featured on the magazine's cover. The cover and profile will appear on Sports Center on Wednesday during the 7 a.m. EST hour.

ESPN's gaming issue has an in-depth feature on Ninja called "Living the Stream." In it, general editor Elaine Teng explores how he maintains his non-stop streamer lifestyle. "Sunday in Jacksonville" tells the story of 24-year-old David Katz, who allegedly killed two people and wounded 11 others in a shooting during a "Madden NFL" tournament. ESPN said the piece is the "definitive story of what happened, why it happened, and what it means for the 'Madden' community and esports at large."

Meanwhile, "Good Guide, Well Played" focuses on esports newcomers and which game is best suited for them. The magazine also takes a look inside the Sea Salt Suite, where members of the fighting game community go after EVO to unwind. Plus, in "Fortnite Dancing with the Stars," Olympic skater and "Dancing with the Stars" champ Adam Rippon breaks down some of the battle royale game's signature dance moves.
The fact that Ninja's well-known gameface is making it to the cover of ESPN just goes to prove how quickly gaming and professional esports are being adopted by more mainstream sports media outlets. That trend will likely continue.