Koei Tecmo just dropped some awesome news through their Japanese PR wing as Nioh has surpassed 1-million sales. The news broke through a posting on Gamer.ne.jp earlier today, which included some nice updates for the fans.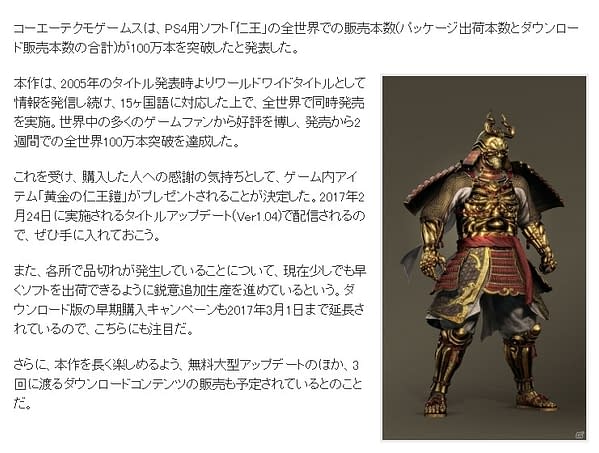 That shiny gold armor you're looking at? That's a celebratory gift for anyone who currently owns the game, as the 1.04 patch will include the Golden Nioh Armor as a thank you from KT. Among other updates that we discussed earlier this week, the early purchase deadline has been extended until March 1, with the bonus of getting the Crimson Master Armor as part of the game. The armor itself was inspired and damn near modeled off that of Yukimura Sanada. It's a really good time to be a player of the game right now, and if you're one of the hardcore gamers who have been cranking through the levels waiting for something extra, this is a nice reward.
Enjoyed this article? Share it!