I'll See You When I C-You: A Goodbye To Acquisitions Inc. The C-Team
Tonight, D&D livestream viewers will be saying goodbye to Acquisitions Incorporated: The C-Team as the finale airs on Twitch. A spinoff from the main series, the past few years have followed a group of four players who represent a branch of the adventuring company started by Omin Dran (played by Jerry Holkins). Those four players have been Donnar Blit'zen (played by Ryan Hartman), Walnut Dankgrass (played by Trystan Falcone), Rosie Beestinger (played by Kate Welch), and K'thriss Drow'b (played by Kris Straub). And like most D&D games, what started as a mutually beneficial team-up at a tavern turned into a world-trotting (and beyond) adventure in which we now find ourselves nearing the proverbial finish line. Which will air at 4pm PT on Penny Arcade's official Twitch channel. We're not going to spoil the show for those who have never seen it and might want to check it out, but we do want to pay our respects to it for being one of the few who weren't the norm.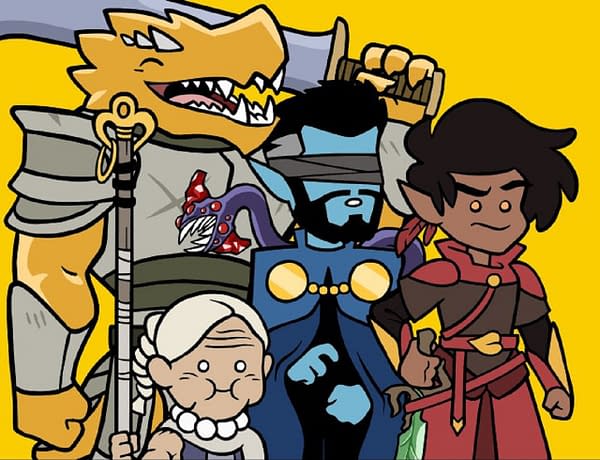 There have been discussions for decades about what is or is not the right way to play Dungeons & Dragons. It all kinda depends on the person you run into and what era they played. I'm all for the idea that as long as everyone is having fun, there is no wrong way. Because it's not about the rules in the book, it's about the time you spend with friends at the table. That shared experience we all go through. For a lot of players, it's almost a standard experience where you tell a story for a bit, investigate, come across something you shouldn't, have a giant fight, pick up the pieces, and then move on to the next thing. For The C-Team, the show was primarily focused on storytelling. There were many an episode where you'd tune in and see this cast have a long-form arc where there was never a hint of combat anywhere. They went out of their way, using their characters and the abilities on their sheets, to tell a well-thought-out story. …With a lot of dick jokes. I mean, like, a cavalcade of dick jokes.
This is what made The C-Team as a group stand out, not just from the primary Acquisitions Incorporated show, but from a lot of D&D shows you're used to and still watch during the Fifth Edition era of the game. Especially after the main show slipped away from doing pre-recorded episodes and only focused on live events. The joke has often been made that The C-Team is the "better show", however, in a lot of ways it truly is. There are many, many, many players out there who have a D&D group and combat just isn't their thing. For different reasons whether it be tedious, required, predictable, whichever way they see it. This show stood out as one of the finest examples of how to run a game based entirely on a premise without the need for random battles or forcing you into combat to tell a piece of the story. It forced all of them to think on their feet and find creative solutions to progress and entertain.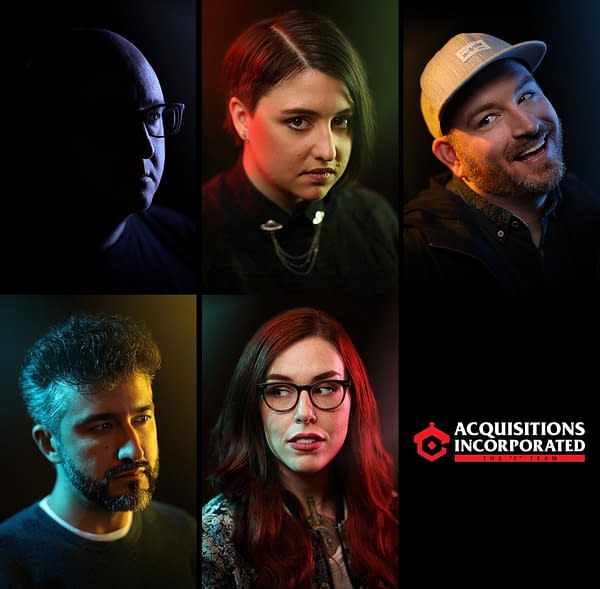 Which is why it hurts watching it go away. To say it sucks is an understatement because this show hit a very specific nerve for a lot of viewers who just wanted something different from the rest. This was the alternative to the norm. If D&D livestreams were considered pop music, this show would be They Might Be Giants. It's familiar, a bit quirky, doesn't quite fit the mold of what others are doing, but is beloved by those who get it. Watching the finale tonight will probably be sad but cathartic as we hope to see a lot of the threads we've been watching the past few years either get tied up or completely cut off in the most dramatic way possible.
…And you know, if the Shadow Council (lead by producer Elyssa Grant) ever gets its way, don't be too surprised if one day in the future, it comes back for a live show at a PAX event. Which is what I'm personally hoping for. But in any case, saying goodbye to something you enjoy isn't fun so instead, to the cast and crew, thanks for the awesome story, and I'll see you when I C-you.