NIS America Makes Three Announcements During NGPX
During NGPX, NIS America revealed some new details for Ys IX: Monstrum Nox and Fallen Legion Revenants, and Trails Of Cold Steel IV. The primary takeaways for the announcements were that Ys IX and FLR are both coming to the PS4, PC, and Switch in 2021, while TOCS4 received official release dates for October 27th in North America and Europe with November 3rd in the APAC. All three games also scored some new trailers for you to check out, which we have all of them for you below.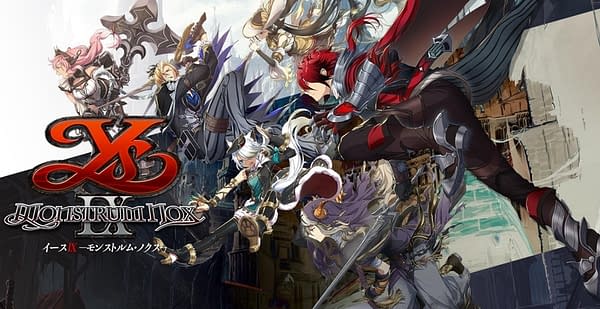 Ys IX: Renowned adventurer Adol "the Red" Christin and his companion Dogi arrive at Balduq, a city annexed by the Romun Empire, only for Adol to be detained before setting foot inside. While imprisoned, he meets a mysterious woman named Aprilis who turns him into a Monstrum, a being with supernatural Gifts and the power to exorcise monsters. Now, Adol must ally with his fellow Monstrums to fend off the fearsome threats emerging from a shadowy dimension called the Grimwald Nox, as well as unravel the mysteries of the Monstrum curse, and the truth behind the unrest within Balduq.
Fallen Legion Revenants: In a world covered in miasma, a floating castle is the last refuge for mankind. The earth is scarred with beasts mutated by the plague while Welkin Castle is quarantined from the horrors below. Lucien, a charismatic politician protected in the castle walls, discovers an ancient book where he learns of the Exemplars, weapons that can turn into sentient soldiers. He joins forces with Rowena, a revenant determined to find a way to come back to life to raise her living son, and the two reluctantly make a pact to overthrow the mad tyrant controlling Welkin.
Trails Of Cold Steel IV: The Erebonian Empire is on the brink of all out war! Taking place shortly after the ending of Trails of Cold Steel Ill, the heroes of Class VII find themselves against the full force of the Empire in an attempt to stop its path of total domination. Further, the hero of the Erebonian Civil War and Class VII's instructor, Rean Schwarzer, has gone missing. Now, the students of Class VII, old and new, must unite with heroes from all over the continent to create the only chance the world has to be spared from total destruction.