It was only a matter of time before someone took the Labo idea for the Nintendo Switch and made their own versions for the console. Enter Nyko, who back at E3 introduced a number of products coming in the next calendar year. The one that has been catching everyone's eye as of late is the PixelQuest Arcade Kit, which is essentially a cardboard arcade cabinet for the Nintendo Switch, complete with special joystick attachments for the joy-cons.
The kit will come with various additions and coloring options, as well as a way to charge the screen and the joy-cons while in the deck. You can check out the company's description of it below, and it will be released on November 27th for $20.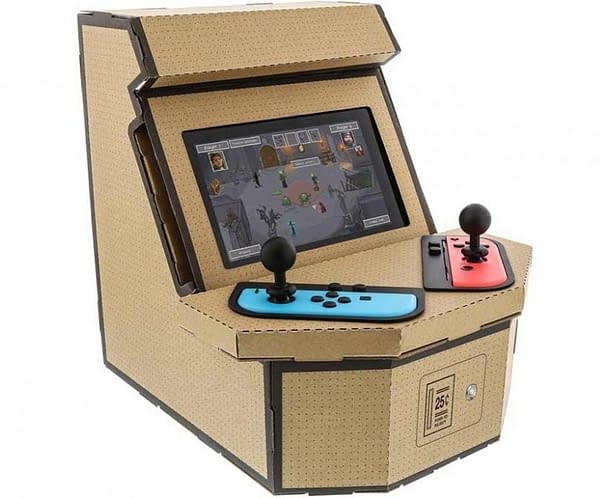 PixelQuest Arcade Kit is a buildable, playable recreation of a traditional arcade cabinet compatible with the Nintendo Switch and two Joy-Cons. Recreate a retro arcade cabinet with sheets of corrugated cardboard and individual die cut components, then personalize it with the included sheets of pixel block stickers.

The kit comes with two balltop joysticks custom fit to attach to the Joy-Con analog sticks for a throwback experience. The Joy-Con slots contain mechanical button remapping allowing players to press the shoulder buttons on the Joy-Cons while keeping the traditional button configuration of a classic arcade machine. Other features include cut-out ventilation slits and a working coin slot that doubles as a piggy bank.
Enjoyed this article? Share it!