[rwp-review-recap id="0"]
It isn't often that I experience a game that causes me anxiety and extra perspiration as I sit in a chair. Oh sure, there are games that cause me great deals of paranoia from jump scares, and other games that cause me to get physically active as I play—but having both without moving a muscle is something I have to applaud because rarely do I get so edgy that I have an unexplained fear after turning off the game. That's the kind of rabbit hole you can expect to dive into when you peer into the abyss that is Outlast 2 from Red Barrels. Outlast 2 is a survival-horror sequel from the 2013 predecessor, which was a cool alternative version of the genre that played on visual cues and emotional responses as you played. The game starts you off with a new story not tied to the original, as you play as Blake Langermann (oddly enough, another investigative journalist) who crashes his plane in the Sonoran Desert in Arizona with his wife Lynn. Lynn, of course, is nowhere to be seen when you wake up, and now you set off to find her in a cult-ridden land with lots of dark corners and random corn fields. The vibe as you walk around has a very "southern" vibe going for it, as you come across farms and structures that might as well be blood-soaked from the amount of it you see everywhere you go. You have a camera with you that allows you to light up areas as well as see in the dark, but it has a limited battery life that you need to keep an eye on. You'll also use the camera to record certain areas and play them back to gain memories and backstory into Blake's life. As you wander around you'll notice you have a lot more freedom than the last game, but the controls you have to work with are less than stellar. In fact, there are moments where you'll feel downright restrained despite the fact that you're walking in an open area. Like the previous incarnation, you have no ability to fight off any threats, you're essentially seeking and fleeing for the entire game. Without giving too much away, you'll come across random enemies who want to kill you, but you have the option of avoiding them and hiding rather than fleeing in a hurry. While the upside is that you have the ability to save on life, the downside is that the area is so open and weirdly constructed, you'll find it easy to get lost. When this happens (and trust us, it will happen), there's a renewed sense of urgency to get out of wherever you are. But even then the game doesn't exactly give you a sense of linear time when you're escaping from enemies or specific areas, and a lot of the moments you find yourself barely getting out with your heart pounding in your chest is all for nothing as you'll find yourself in an equally bad situation shortly after.
Outlast 2's primary mechanic is running and paying attention. You'll be given subtle clues about your surroundings as you move, but if you miss something and go in a particular direction, it could cost you your life immediately. You'll be switching back and forth between regular view and your camera so much, you'll feel like a Freddy Fazbears Pizza employee working the graveyard. Another frustrating part of your movement is your ability t deal with objects. Blake's ability to leap over fences, sprint and make great jumps is awesome when you're in a pinch—but it all goes out the window when you find yourself unable to navigate around rocks and barrels. Or when the revelation kicks in that you can climb some objects, but not all objects.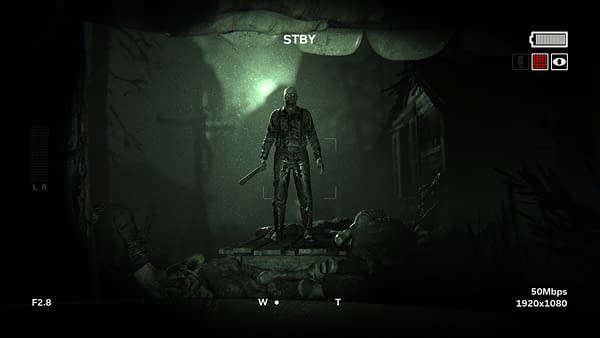 This all will lead to you getting killed quickly, and trust us, yo will get killed frequently in various gore-filled ways. If that isn't disturbing enough, the game will mess with your head in ways you didn't even conceive. Walking down hallways that breathe and bleed as if they're a living person, messing with religious overtones and the impact on one's soul, and of course, the time traveling aspect as you start to delve into your own past. At some point, you'll find yourself in Blake's old school reliving past events that tie into the greater plot down the road. And while these can be a brief rest from the horror, they can also be the most terrifying moments in the game that will haunt you for the rest of the game. Again, without giving away much, the enemies will drive you insane as they pursue you throughout the game in a relentless marathon of horror. There are two types you have to deal with: generic enemies that make their presence known but only slightly damage you, and main enemies who have personality and are basically the stuff of nightmares. At a certain point in time you'll start to feel the hair crawl on the back of your neck when you hear certain noises or voices in the distance, and at that moment, you know you only have moments to live. There is no escaping the Pavlovian response you'll eventually develop to the sounds of scraping metal or distant screams. But the one thing that will impact you in various ways, depending on what kind if person you are, is the ending. Some people I know who played it were left shivering while others thought it was obnoxious. I fell somewhere in the middle and thought it was about as appropriate of an ending we could ask for. Outlast 2 is a brilliant survival game that beat the hell out of my wits. I wouldn't say I was in constant terror or feared everything around me as I played, but there are pieces of the game that stuck with me after turning it off. If you got a game that can make people feel things long after they've moved onto something else, that's a winner in my book. That being said, the controls are a pain and some of the pacing could be fixed in moments where you're learning more about Blake and the situation around you. The game takes on themes you don't normally see in modern gaming and dares you poke them with a sharp stick until they poke back. As far as horror goes, it is a must play as it does things you normally don't encounter beyond experimental indie titles as far as playing with the world and messing with your mind. Have fun trying to sleep later…
[rwp-review-ratings id="0"]
[rwp-review-form id="0"]
Related Posts
Enjoyed this article? Share it!