Overcooked 2 Is Offering Two DLC Packs Free On Steam This Weekend
Good news for fans of Overcooked 2 as Team17 is offering two special DLC packs completely free this weekend on Steam. The two packs they are giving away are the Surf 'n' Turf pack and the Too Many Cooks pack. So basically you're getting a bunch of summer cooking levels that will keep you busy and occupied in the heat, while also getting five new cooks to choose from that will keep brighten up the kitchen and give players more variety to choose from beyond the unlockable characters. You can read about both below, but hurry and download as they will go back for sale at regular prices tomorrow.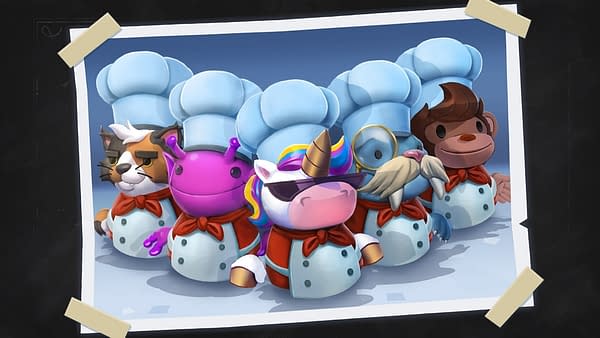 Overcooked 2 – Surf 'n' Turf
Get your sunglasses on, gather your chef squad and fire up the barbecue…IT'S TIME TO GO TO THE BEACH! More recipes, more chefs, more kitchens! You'll be having a whale of a time as you cook up kebab skewers and smoothies with our new friends the ever so exotic parrot chef and the fiery island chef. Go head-to-head in two scorching versus levels or combat the hungry masses as a team in one of the 12 new succulent story levels, using your trusty water pistol to clean dishes for maximum cooperation or against each other for maximum chaos…Whatever floats your boat!
Too Many Cooks Pack
Grab your aprons, fire up those stoves and assemble the tastiest team yet with this sizzling Chef pack…TOO MANY COOKS! With the help of these 5 spicy new Chefs, you'll be chopping, frying and serving your way to culinary greatness in no time! They've got style, panache, and the skills to match! With the deliciously delightful variety of Chefs available it's hard to believe too many cooks would spoil anything!
Monkey Chef: You're sure to go bananas for their mouth-watering mayhem!
Calico Cat Chef: The height of good taste, this feline is sure to break hearts (and eggs!)
Walrus Chef: A kitchen veteran who knows their stuff – you'll never find Walrus Chef fishing for compliments!
Purple Alien Chef: Make space for Alien Chef, whose cooking is truly out of this world!
Unicorn Chef: With their fantastical flavors and magical morsels, this Chef's cuisine is the stuff of legend!