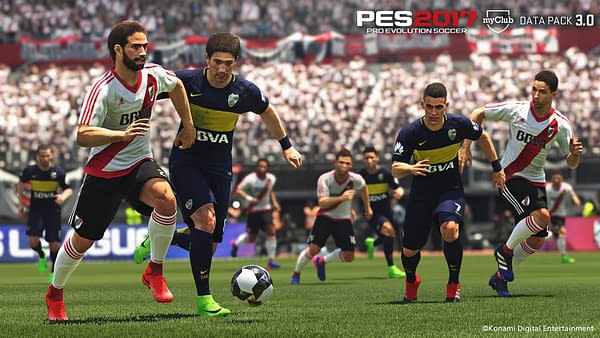 Konami Digital Entertainment has announced today that the PES League World Tour 2018 Americas Round (the final tournament for the second season), will be held in Buenos Aires, Argentina, on March 31, 2018. The Americas Round will bring together 20 of the best PES 2018 players from around the world to compete for prizes and a chance to move a step closer to the PES League World Finals. In addition to the single player competition, 10 teams will participate in a 3-vs-3 co-op tournament. This marks the first time teams will take part in the PES World League.
The Americas Round will also include the top eight single player competitors who automatically qualified to participate after competing in the Asian Round (the finals tournament for the first season), which concluded on January 14, 2018, in Tokyo.
And in case you haven't made it into the Americas Round, but want to test your skills, you can join the Americas Regional Final, which will grant a few more entrants into the Americas Round.
The PES League 2018 single player finalists who will face off in the Americas Regional Final:
Country
Name
Qualifiers
1
Brazil
Renan_Sapuka
2
Brazil
Ghalbim_pes
3
Chile
Elrey-ymoda
4
Peru
Josephpj
5
Peru
Paulinho_099
6
Chile
Lorcatelli
7
Peru
Nils1
8
Brazil
Bairral
9
Brazil
FUTEFACIL_16
10
Brazil
Brunochurras
11
Brazil
GabrielMeestre
12
Peru
CeGoLe–
13
Chile
legvguitar94
14
Colombia
Efren
15
Brazil
Estarlen
16
Peru
Manquito
Below are the PES League 2018 teams who will face off in the Americas Regional Final:
Country
Team Name
Qualifiers
1
Chile
elrey-saiyajiinuc17
2
Brazil
The Beckham's
3
Colombia
Fc Barrancabermeja
4
Argentina
Sudamerica PES
5
USA
All Stars
6
Brazil
Tik Taka Aereo
7
Colombia
LuKerZ
8
USA
twinstorm2's Clan
You'll be able to watch the PES League Americas Round on Twitch, Youtube, and Facebook on March 31, 2018.
Enjoyed this article? Share it!