Ravensburger & ThinkFun Reveal Four New Mystery-Inspired Games
Looking for some mystery or detective work in your board games? Ravensburger and ThinkFun have four new tabletop titles to check out.
---
Ravensburger and ThinkFun revealed a few new titles to both of their respective libraries this week, as they now have four new mystery-inspired titles. The big one on the list is Scotland Yard: Sherlock Holmes Edition, as they have taken the series and thrown it back into the classic Holmes universe with his own mysteries to solve. As well as new editions of three titles that now have fresh additions to their series. We have more info on them below as they're all on sale via Amazon.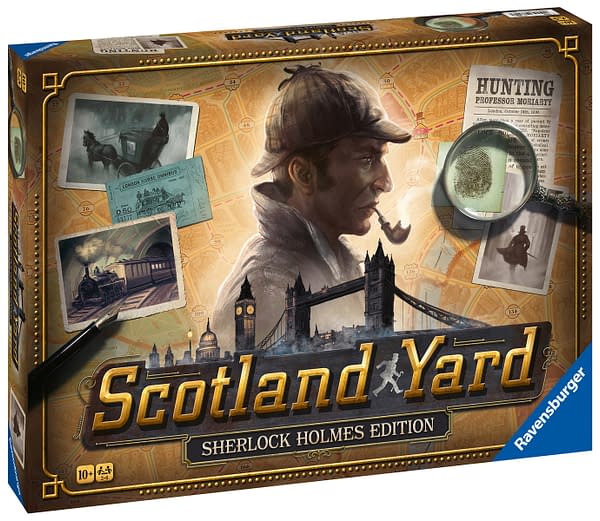 Scotland Yard: Sherlock Holmes Edition
Celebrate 40 years of Ravensburger's classic board game with a Sherlock Holmes twist! Professor Moriarty is on the run. He was last spotted escaping in a hot air balloon over the Thames. Use your deductive reasoning to catch him, but beware: Moriarty is dangerous and concocting more crimes. ($40)
echoes: The Cursed Ring
Ravensbuger's echoes line is a highly immersive audio mystery series where players use a deck of illustrated cards and spine-tingling sound clues to complete a story and solve a mystery. In echoes: The Cursed Ring, a mysterious heirloom places a young woman in danger. Is the ring cursed? Listen to echoes from the past to discover the truth. ($11)
Cold Case: End of the Line
Two murders plague Pauvigny, France. Packed with realistic documents pertaining to the crime, use your best investigative skills to crack the case. Great to solve solo or with a small group of friends, Cold Case: End of the Line has twists and turns for hours of exciting play. ($12)
Escape the Room: Murder in the Mafia
The first thing you notice when you enter your office is Mickey Malone's dead body. Mickey was the chief enforcer for the local mafia. You've had your run-ins with Mickey and might treat news of his death as a good thing, if it wasn't your gun on the floor next to him. Man, you hate Mondays. ($35)