Razer Releases Some Familiar Items Designed for "Value-Conscious Gamers"
Razer has released a brand new line of products that might look a little familiar to you but have a new design and a new purpose altogether. The company has released new versions of the BlackWidow keyboard, Kraken gaming headset, and the Basilisk Essential gaming mouse, all with new designs as well as new prices to accommodate gamers on a budget. You can read more about the specs here, but the keyboard will run you $120, the headset $80, and the mouse $50. That's roughly a 25-40% discount off their predecessors. The move was done to give players who don't have a ton of cash to spend on high-end models a chance to get a quality product at a cheaper price. All three are available to purchase starting today.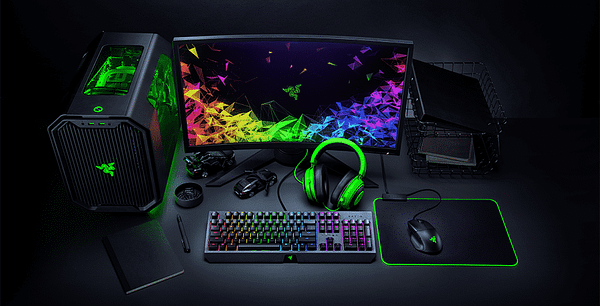 RAZER BLACKWIDOW

The Razer BlackWidow keyboard is the latest addition to Razer's best-selling keyboard family. Sporting many features of the flagship BlackWidow Elite, the BlackWidow is fitted with Razer's tactile and clicky Green Mechanical Switches.

Designed for gaming by Razer, the Green Mechanical Switch features a tactile bump and distinctive click sound, with optimized actuation and reset points for best-in-class gaming and typing. Using Razer's improved dual-side wall switch design, key wobble is minimized while increasing accuracy and responsiveness. Each key is rated to last up to 80 million keystrokes.

RAZER KRAKEN

The new Razer Kraken is the successor to the best-selling Kraken Pro V2. Taking design and hardware cues from the flagship Kraken Tournament Edition, the Kraken features large 50 mm drivers to deliver clear, powerful sound whilst the improved retractable microphone has been honed to cut out even more background noise, ensuring crystal-clear team communication.

RAZER BASILISK ESSENTIAL

The Razer Basilisk Essential stays true to the unique right-handed ergonomic form factor of the original Razer Basilisk and has a total of 7 configurable buttons utilizing Razer's Mechanical Mouse Switches, with a durability of up to 20 million clicks.

The unique thumb-operated Multi-Function Paddle, an award-winning feature in the original Basilisk, can be programmed for any function the gamer needs; a quick-shift DPI clutch for sniping, shortcut for a weapon or spell slot, push-to-talk comms or Press and Hold for sprinting, healing or crouching.