Razer had an interesting CES 2021 as the company revealed multiple products that were both awesome and interesting at the same time. For laptops, the company revealed two new models with the Blade 15 and Blade Pro 17, both of which offer amazing services but with different aspects in mind. Meanwhile, we also got introduced to a brand new extreme gaming chair with what they're calling Project Brooklyn, as well as an electronic face mask for those of us still living in the COVID-19 pandemic called Project Hazel. You can read about all three below as we look forward to seeing more about the mask, hopefully sooner than later.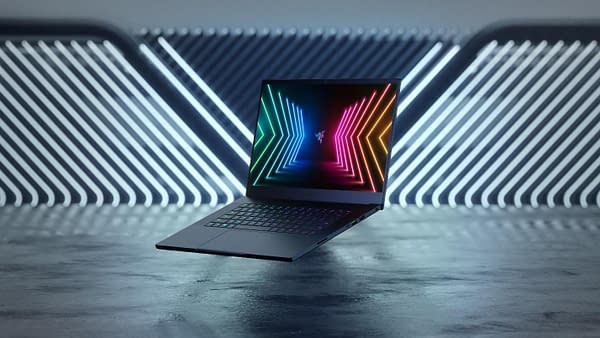 Razer Blade 15 & Blade Pro 17

The all-new Blade 15 and Blade Pro 17 offer gamers the most powerful graphics technology currently available, armed with the new NVIDIA GeForce RTX 30 Series laptop GPUs, up to the NVIDIA GeForce RTX 3080. NVIDIA GeForce RTX 30 Series Laptop GPUs, powered by the NVIDIA Ampere architecture, increase energy efficiency by up to 2x, accelerate performance dramatically and introduce third-generation Max-Q technologies such as Advanced Optimus for improved battery life when playing on the go, Dynamic Boost 2.0 for optimized GPU performance when gaming or creating, and Whisper Mode 2.0 for improved acoustic control when working in quiet environments. GeForce RTX 30 Series Laptop GPUs deliver stunning ray-traced gaming experiences in Cyberpunk 2077 and other top titles and enable creators to produce incredible content using hundreds of GPU-accelerated apps.

he Blade 15 and Blade Pro 17 continue a legacy of being the fastest around, featuring new display types with higher refresh rates and more resolution options to take full advantage of the powerful NVIDIA GeForce RTX 30 Series Laptop GPUs. For the first time ever, the Blade 15 Advanced Model will be available with three unique 15.6" display options: Full HD at 360Hz, Quad HD at 240Hz with NVIDIA G-SYNC, and a stunning Ultra HD OLED with a wide color space at 60Hz. The Blade Pro 17 will also be available with three different 17.3" display options: Full HD at 360Hz, Quad HD at 165Hz, and Ultra HD at 120Hz.

The high refresh rate Full HD display is perfect for hardcore gamers for whom every frame counts to maintain the competitive advantage. The Ultra HD displays are the ultimate way to work for content creators needing the power of a gaming laptop but the visual fidelity of a studio workstation. The Quad HD displays offer the best of both worlds, featuring a high refresh rate for fast-paced gaming and a high resolution for content creation. Whether gaming, creating, or gaming and creating, there is now the perfect Razer Blade for everyone.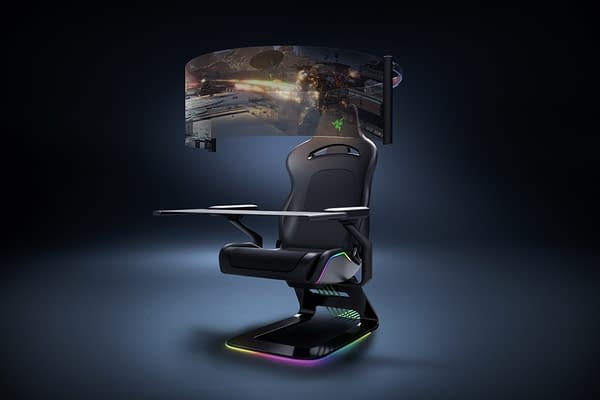 Project Brooklyn

Project Brooklyn is a cutting-edge gaming chair built with carbon fiber and RGB lighting, transforming easily into a fully immersive gaming station complete with panoramic visuals from a 60" rollout display, riveting tactile feedback built into the seat, and 4D armrests that roll out into adjustable peripheral tables. The existing types of all-in-one chairs that deliver "cockpit" style seating and mounted hardware are typically room-sized and the costs are astronomical.

With design inspiration from the Razer Iskur introduced in October 2020, Project Brooklyn takes leaps forward in user touch points, connecting the gaming chair to the display and its more functional components like armrests, while still delivering on comfort from plush, high-density foam cushions that support your unique body shape. The leather-stitched seat back is constructed in a robust carbon fiber body to maintain perfect posture throughout gaming marathons.

The adjustable platform on which the chair sits is complete with cable-routing and takes design cues from the Razer Raptor monitor. Mounted from the chair's backbone and deployable with the touch of a button is a 60" full surround OLED display for stunning visual detail. Folding into the chair back when not in use, the roll-out display assembly plunges you into the center of the action with crisp detail and a savory panoramic experience. The fully modular 4D armrests neatly tuck away collapsible tables with flexible ergonomics, allowing you to switch easily between PC gaming with a mouse and keyboard, and console gaming. There are separate panels in each armrest allowing for different keyboard and mouse ergonomics and each half folds away when not in use.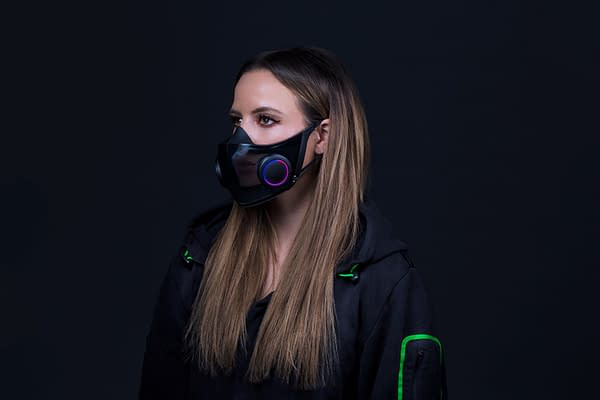 Project Hazel

For improved social interaction, Project Hazel has a clear, transparent design so those around you can view facial cues such as a smile or laugh and allow the hard of hearing to lip read what the wearer is saying. Interior lights activate automatically in the dark, allowing wearers to express themselves clearly regardless of the lighting conditions. In addition, because masks can also muffle voices, a new Razer VoiceAmp Technology (patent pending) uses a built-in microphone and amplifier to enhance the user's speech for clear communication while staying safe in social situations.

To reduce the waste created by disposable masks, the Project Hazel smart mask uses replaceable and rechargeable disc-type ventilators that can be conveniently sanitized of bacteria and viruses by placing it inside its dual-purpose wireless fast charging box with disinfecting UV-light interior. Lighting indicators show charge levels, and long-lasting battery life from a full charge easily enables all-day mask use. The waterproof, scratch-resistant mask is as tough as it is sustainable—made of recyclable plastic to greatly minimize the waste created by disposable masks.

The silicon-lined smart mask delivers comfort with active air cooling and regulation, bringing in fresh air and venting out CO2. The result is an air-tight seal from its adjustable ear loops, permitting custom sizes for a secure fit that keeps from obstructing the mouth. For extra user entertainment and style, wearers can activate two customizable Razer Chroma™ RGB lighting zones offering 16.8 million colors and a suite of dynamic lighting effects.
Enjoyed this article? Share it!