This may come as a shock to a lot of our American readers, but Christmas Eve in the United Kingdom is often celebrated in a rather macabre way- with the telling of ghost stories! If the thought of gathering around the fire and trading spooky stories with loved ones sounds like your cup of wassail, tread ever on, gentle reader, because we have some really fun suggestions for you!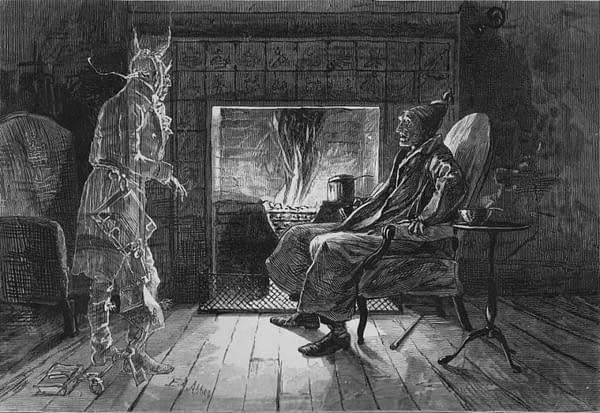 Charles Dickens may have written the best known holiday ghost story with A Christmas Carol, but it is hardly the only tale worth telling. In Algernon Blackwood's The Kit Bag, a young law clerk gets more than he bargained for when he borrows a bag from his employer:
He was standing by the door of the bedroom during this brief soliloquy,
and as he passed quickly towards the sitting-room to fetch them from the
cupboard he saw out of the corner of his eye the indistinct outline of a
figure standing on the stairs, a few feet from the top. It was someone in
a stooping position, with one hand on the banisters, and the face peering
up towards the landing. And at the same moment he heard a shuffling
footstep. The person who had been creeping about below all this time had
at last come up to his own floor. Who in the world could it be? And what
in the name of Heaven did he want?
The Kit Bag, despite being over a hundred years old, is filled with plenty of suspense and would make for a delightful read with friends in a darkened room. Charles Dickens, E.F. Benson, and A.M. Burrage all contributed stories that would be perfect to tell on a quiet Christmas Eve.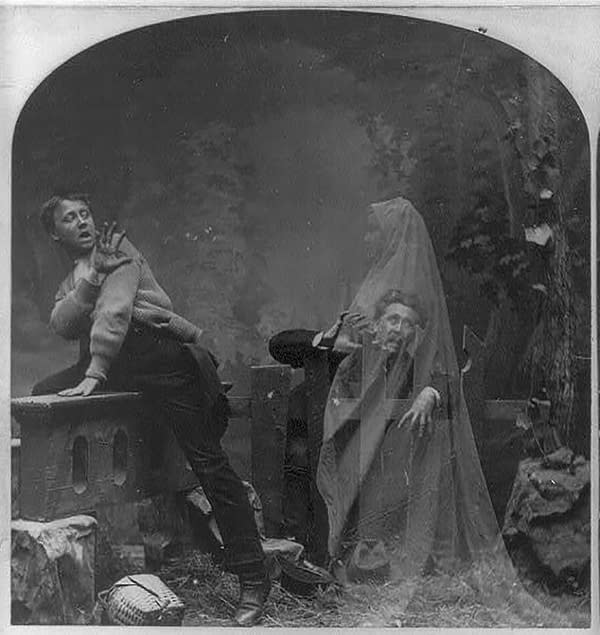 But how about playing a spooky role playing game instead? Certainly, games like Call of Cthulhu are plenty entertaining, but the rules can be cumbersome, especially if you are trying to play your creepy game with people that are new to role playing. Betrayal at House on the Hill is an excellent game with plenty of chills and surprises, but again, the rules can take some heavy lifting on the players part before everyone is up to steam. We need something easy to learn, atmospheric, and heavy on the story telling. We need Ten Candles.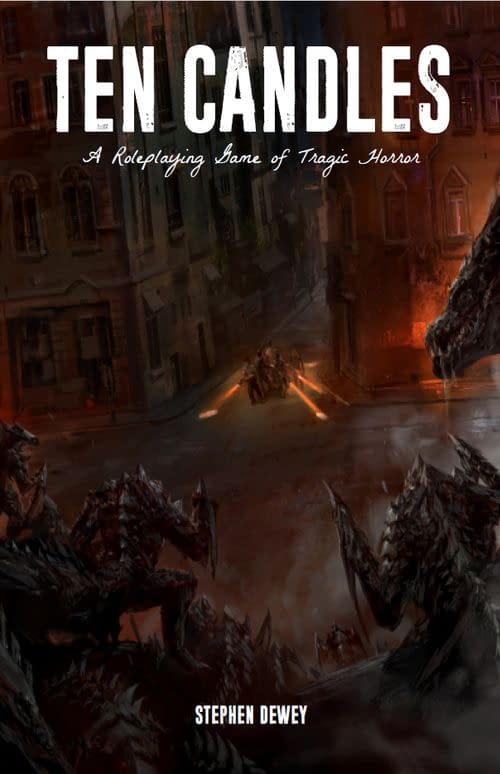 You only need a few things to play Ten Candles: Ten tea-candles (makes sense), index cards, a fire-proof container, and a recording device. The setting for Ten Candles is atmospheric and evocative. A pervasive darkness has settled over the world, and They showed up, devouring whatever strays from the light. What are They? Monsters? Aliens? Ghosts? What they are is less important than what you do. The game is called "tragic horror," because the characters will not, under any circumstance, survive the game session. Here's Ten Candles creator Stephen Dewey with a quick run-down on how to play the game:
While playing bleak games or telling ghost stories may seem morbid to some, it's a natural expression of this time of year. The Holiday season is steeped in the symbolism of death and rebirth, especially for those of us in the Northern Hemisphere. We light candles and hang lights to keep the over-long hours of darkness at bay, and drape ourselves in traditions that keep us close to those we love. What better way to stay together than telling stories to pass the hours before the dawn, just as our ancestors did for millennia? And now you can tell stories as a group, by the light of ten tiny candles.
Ten Candles is available from Cavalry Games as a PDF download or physical copy.
Enjoyed this article? Share it!