It's been a minute since we reviewed a gaming chair, now that the holiday season is over and people have been working on new models to show off as convention season picks up. The latest chair to come our way arrived from AKRacing, whom you may recognize from several esports tournaments. They sent us one of their MAX gaming chairs for review, so we put this one together and gave it a proper shot in front of our PC and TV.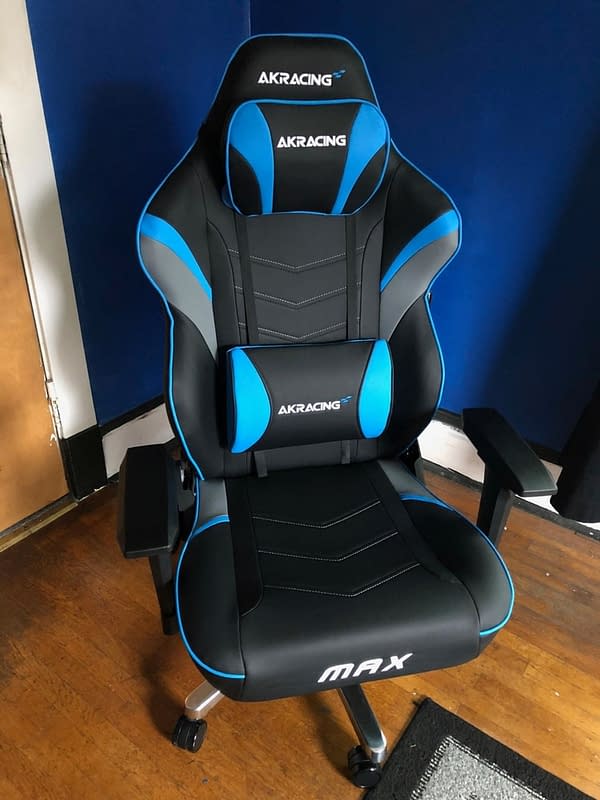 The first thing to take note of is the extended head pillow. A lot of designs come out with what we look at as the "brick pillow" that sits on the top of the back. This one has more of a sloping square shape that takes care of more of the head and neck area. It isn't as soft as other pillows have been since it's wrapped in a leather case, but it does get the job done nicely when kicking back and enjoying a game. You just attach by slipping it over the top and letting the elastic band hold it in place.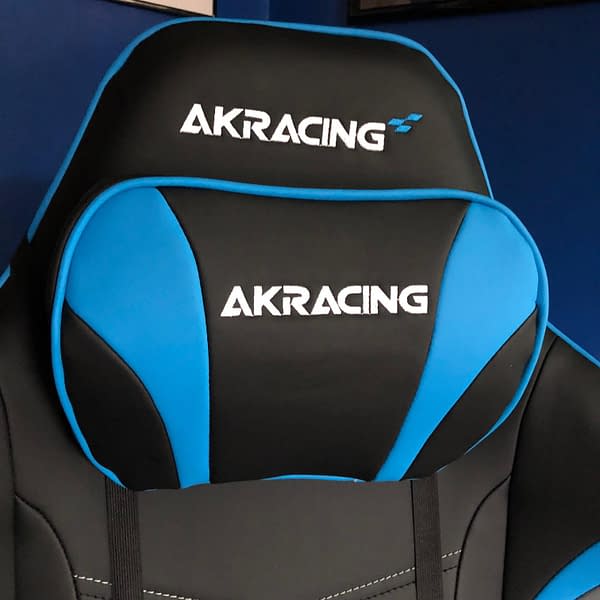 The back itself is firm and cushioned. Not as well as the seat, but enough to provide back support. This design is a little wider than some chairs we've reviewed in the past, giving us more room for our warm to rest if we decide to recline back and rest in the chair. We took it for a bit of a spin and had a quick power nap in it for about an hour, and it worked well. If you're one of those gamers who basically lives in the chair, this works well for a temporary sleep solution, but we wouldn't recommend it for eight hours.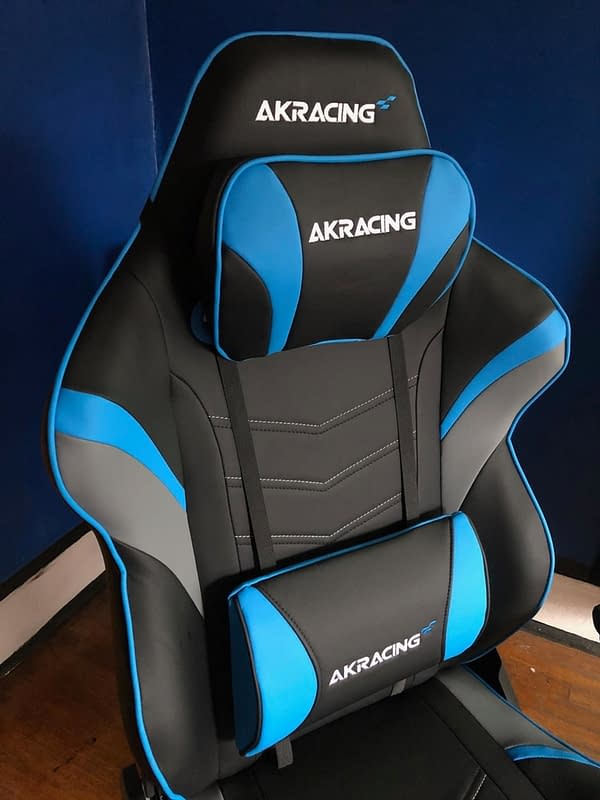 The seat is well cushioned and provides a lot of support for your butt. It isn't quite memory foam — in fact, we can't really tell what kind of foam it is without ripping it open. However, it does provide a firm but contouring seat for your seat. The armrests have that four-dimensional adjustments to them that are expected in gaming chairs these days. You can move them forward or back, twist the arms to the sides, raise and lower them, and push them in or out for the width. The last one does require an Allen wrench to make it work right, which it does come with. I will say that these arms moved a little too well. Many designs in the past you have to fight with them a little to make sure its what you want, while these slip into place pretty easily.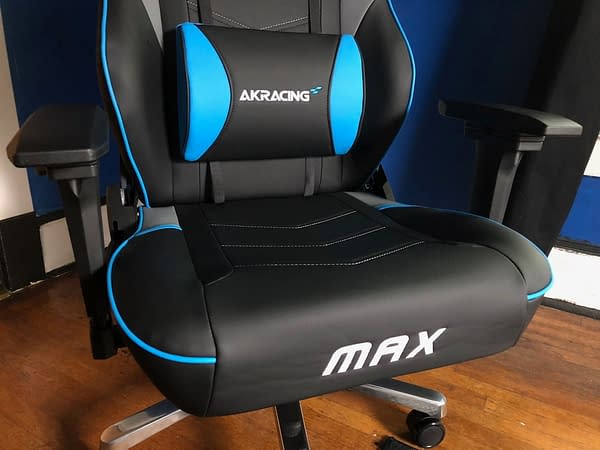 The bottom of the chair has your three levers to adjust the chair how you see fit. The left being the main piston to raise and lower the chair, the right holding it in place unless you want to rock bank and forth, and the third on the right next to your backside to adjust the recline of the back piece. You also have a torque knob to set up how far back you'd like it to go. The wheels are all plastic attached to a stainless steel spread, making it roll on carpet, tile, and linoleum with great ease. There really isn't anything to complain about here — the design just works well.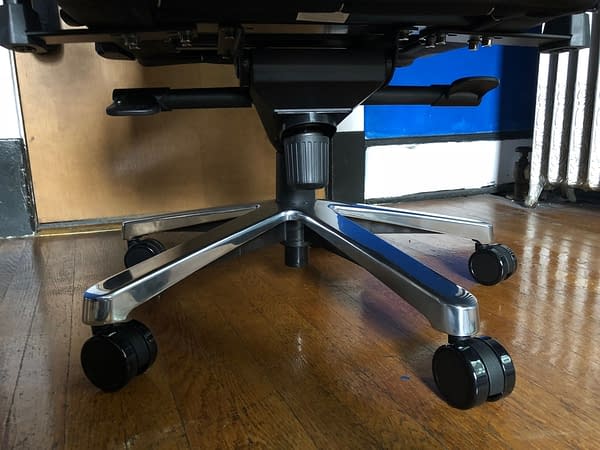 As you've seen above, the chair does have a lumbar pillow, attached by pushing two of the expanding straps through the bottom then clipping them together by sending the other two through the holes at the top. I enjoy the design because it works fine, even though it isn't built in or a free-roaming pillow. Finally, the color of the chair is labeled as blue, although it should be called light blue based on the design. You can also snag it in red, black, white, and indigo if you so choose to.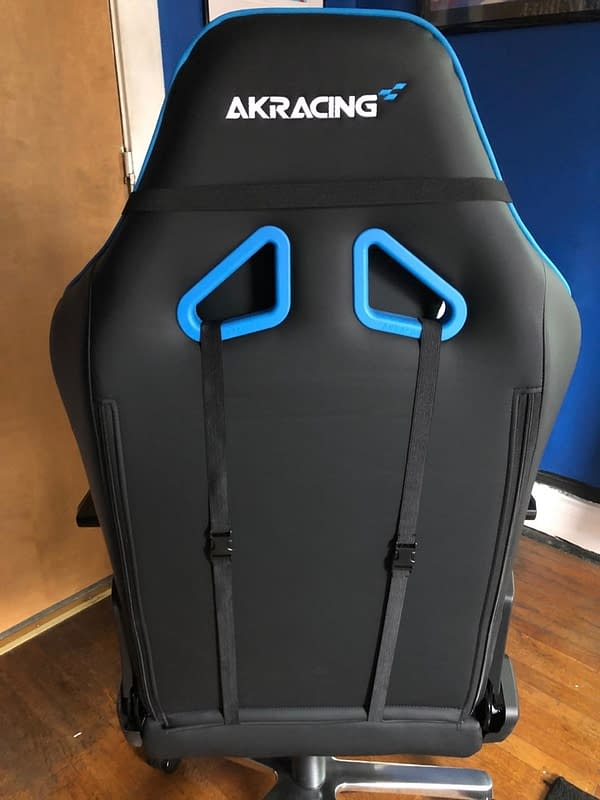 AKRacing usually knows how to build a proper gaming/racing chair, and this one is no exception. The MAX basically does everything that it should do, and while there are a few little things we could gripe about when it comes to the design, the overall consensus after a few weeks of grinding away at games in it is that it's very comfortable and makes for a better gaming experience. The one major hurdle that will stand in your way when thinking about purchasing it is the price, which currently at the time of this review sites at $500.
That's a mighty fine investment for a gaming chair, as this is considered to be in that upper-echelon of designs. This is probably for the most hardcore of players or someone seeking out one of the best chairs on the market. Average gamers may think twice about the price, but will probably view it as an investment. We really enjoyed our time using it and think it serves its purpose well, and it's well worth the cash for streamers and esports people who want to add some comfort to their jobs.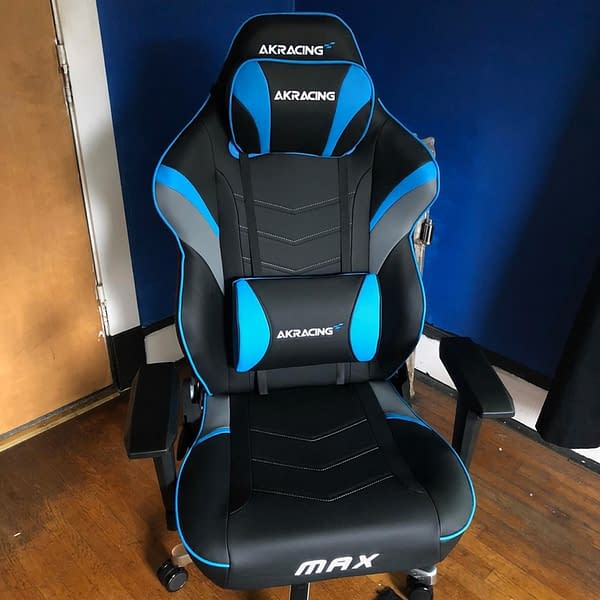 Enjoyed this article? Share it!