Review: The Legend Of Zelda: Triforce Alarm Clock
With The Legend Of Zelda: Link's Awakening on the way, we thought it might be good to review another Zelda product with this Triforce Alarm Clock from Paladone. Months ago when this fun little item was introduced, half the staff here wanted this by their bedsides. Because it doesn't matter what age you are, when you connect to something you connect to it. And the Zelda series has a strong connection with a lot of people, to the point where items like this instantly become must-haves. But is it good enough to have? We tried it out and here's what we thought.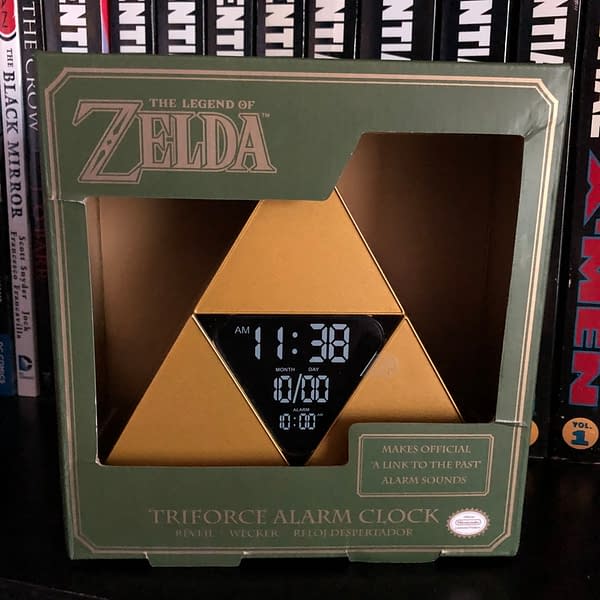 So first and foremost, this is a pretty lightweight design. It looks like the Triforce, and by assumption, you would think it might weight a little extra. But nope, like a lot of digital clocks, this is lightweight and can be put up on pretty much any flat surface. This is a fine design for something that is straight-up plastic. There's no denying it, it is a plastic clock, but it looks good for the design it's meant to be.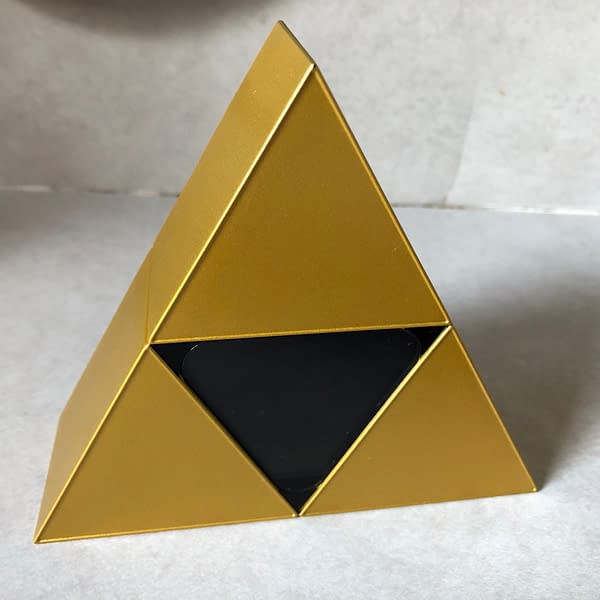 On the back, you'll notice a couple of changes from your average clock. First off, no battery case. So you won't need to purchase something weird like 3 AAA batteries to keep it alive when the power goes out. It's powered by a micro-USB connection that plugs into a standard wall socket. No different than your smartphone or most any smaller device these days. The benefit of this is that it's using less power to do the job, and it has a smaller chargeable battery inside the clock to keep the time. I've had the power go out a few times during storms since I received it, and it's kept the time for over two hours without me needed to go in and re-input the values.
And how might you put those in, you ask? On the back of the Triforce clock is another Triforce symbol. All three of the triangles represent three different buttons. Each one has it's own function depending on what order you press them in. You use this to set the time, the date, and the alarm. It's a little tricky to get used to, and it will go back to just telling the time if you leave it idle for more than 10-seconds. So if you're trying to get the time down to the second to match the world clock in general, you'll need to time your finger-pressing just right. As for the alarm itself, you are greeted to the theme song from The Legend Of Zelda: A Link To The Past. Two key things about the alarm: It will ring for a solid 60-seconds before shutting down, and there is no snooze. Basically, the clock wants you to wake up, but you got a minute to do it.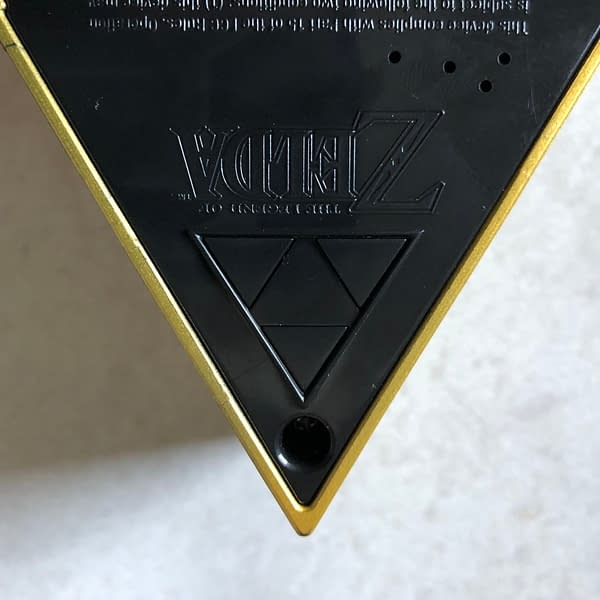 I really enjoyed getting The Legend Of Zelda: Triforce Alarm Clock. Its a cool novelty item to have in my house that reminds me of awesome times from a franchise I love. I enjoy the fact that the display is decently bright so I can read it in the dark and during the day. I like the alarm is a decent volume to wake up to but isn't jarring. And I like that it saves me both a tiny bit of power and no need to go buy it a battery for power outages. If you rely on a clock by your bed to wake up, probably not the best choice, but it still does the job well. I highly recommend getting one if you're a fan of the Zelda series.