Fantasy Flight Games is billing Allies and Adversaries as "The Essential Collection of Heroes and Villains" for their Star Wars role playing game system.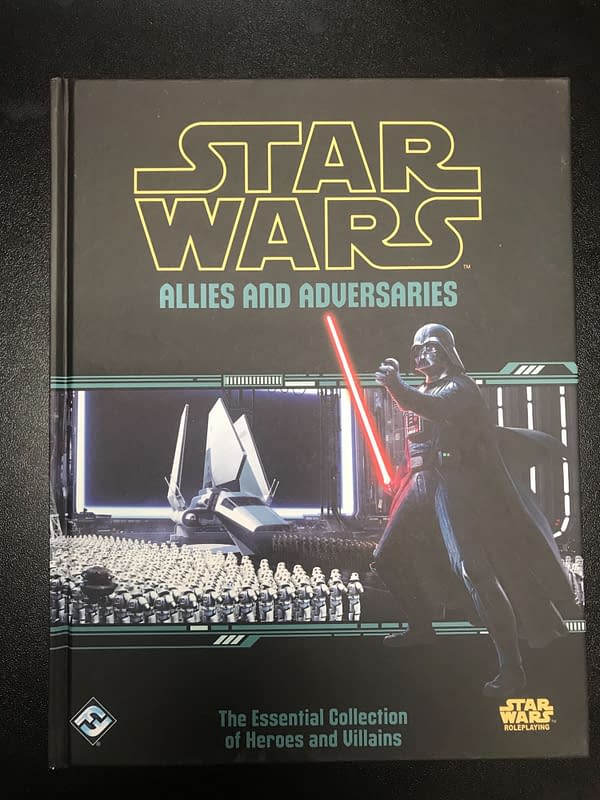 I've spent a few hours with this book, and I can honestly say it delivers on that claim in a major way. I'm going to try not to gush too much, but if you run a regular Star Wars rpg session, this is a book you're going to want in your arsenal in a major way. You might just want to pick it up for fun, too- Allies and Adversaries has a ton of background information on the movers and shakers of the Star Wars galaxy.
Plus, it's simply stunning to look at, but that shouldn't come as a surprise to anyone who's familiar with Fantasy Flight's Star Wars books.
Specifications
Allies and Adversaries is a hard-bound book with a full color interior, and carries an MSRP of $39.95. Within the book you will find 144 glossy pages filled with gorgeous art, and plenty of NPCs, monsters, heroes, and villains.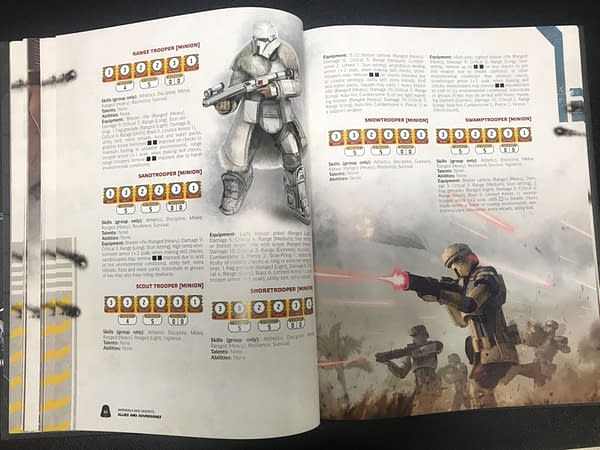 Contents
The book details well over 100 different characters and creatures that can be encountered in a typical Star Wars game. Fantasy Flight was kind enough to split the entries up into factions, instead of doing the entire book in alphetical order. So, if you're looking for Saw Garrera, he's right where he belongs, in Chapter 1: Rebels and Heroes.
Imperials and Despots is chapter 2, where you'll find the likes of Grand Admiral Thrawn, Darth Vader, and just about every flavor of stormtrooper you might want.
Chapter 3 brings you Scum and Villainy, with all of the bounty hunters and smugglers that I could think of, including Hondo Ohnaka. Hutt crime lords are front and center, as are Swoop gangs.
Chapter 4 wraps things up with Creatures and Citizens, where you'll find Wampas, Tauntauns, and Ewoks.
Each NPC entry has background on the character, so the section on Maul details his history from The Phantom Menace, as well as his criminal enterpises from the Clone Wars cartoon. After that, there's tips on how to use the character in a game setting, and the adventure and encounter ideas, which really helps a Game Master looking for story hooks for their adventures.
There are also a few new skills that will help flesh out existing player characters.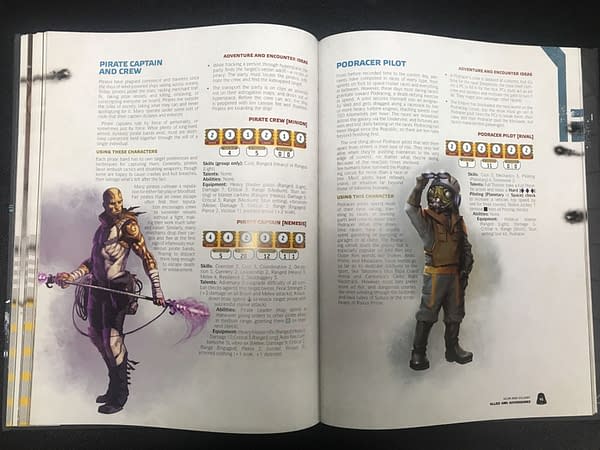 Summary
Allies and Adversaries is one of those books that will be essential for any regular player of the Fantasy Flight Star Wars rpgs, and is practically begging for an accompanying card set detailing these entries.
Game Masters in particular will find this a must-have, since it's easy to find characters or adversaries to populate your game setting.
Star Wars: Allies and Adversaries is available now at your favorite game store- they can probably order a copy in for you even if they don't carry the Star Wars RPG from Fantasy Flight Games.
Allies and Adversaries gives me the same rush when thumbing through it that I used to get going over my old Monster Manual books back in the day, so I might be influenced by some nostalgia here, but I'm giving this release from Fantasy Flight Games a perfect score. 10/10.
Enjoyed this article? Share it!