Saber Interactive's "World War Z" Gets A Season 2 Roadmap
Focus Home Interactive and Saber Interactive are already preparing for the second season of World War Z with a brand new roadmap. As you can see from the graphic they made, there's some awesome bonuses on the way. The one we're especially excited for is PvE Crossplay Support, which looks like it will be one of the few games linking Xbox, PS4, and the Epic Games Store together for multiplayer missions. No official date has been set for the launch beyond Q4 2019, but we're guessing considering the content, look for it to drop around Halloween.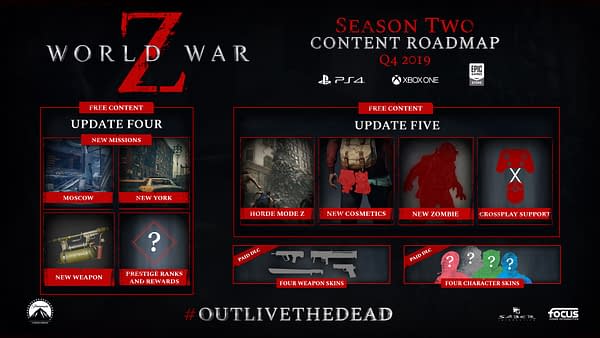 Two challenging new PvE missions set in Moscow and New York.
The highly anticipated introduction of a wave-based horde mode – Horde Mode Z.
A dangerous new zombie type.
PvE crossplay support.
The ability to prestige rank up for new weapon skins and perks.
A fiery new weapon and new cosmetic items.