Gungho Online Entertainment announced this week that Puzzle & Dragons will be getting more content, this time around it will have a Samurai Shodown flavor. From now until November 24th, the collaboration will bring 13 new Egg Machine characters to the roster. Some of whom come from the fighting game roster. Of course, the game does have a microtransaction aspect so if you want a ton of eggs you'll need to pay for them. That is, if you don't want to try earning them. The 6★ characters include Haohmaru Nakoruru, Ukyo Tachibana, Genjuro Kibagami, Shiki, and Yashamaru Kurama, while the 5★ characters are Hanzo Hattori, Galford, Rimururu, Jubei Yagyu, Tamtam, Charlotte, and Yoshitora Tokugawa.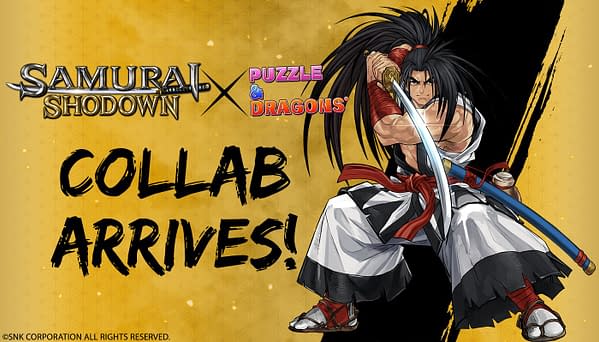 Joining the ever-growing lineup of available characters in Puzzle & Dragons come a slew of sword fighters and brawlers from Samurai Shodown, including Haohmaru, Hanzo Hattori, Genjuro Kibagami, and many more. Players will have to unsheathe their abilities to complete three brand new dungeons available during the collab period. They are the Samurai Shodown Quest Dungeon, the Multiplayer! Samurai Shodown! Dungeon, and the Skill Leveling Dungeon Samurai Shodown.

Alongside all the new Egg Machine Characters, 13 new Assist Evolutions will also be available, based on the iconic weaponry of the Samurai Shodown characters, including The Famous Sword, Fugudoku; Treasured Sword, Chichi-ushi; and many others. Of course, anyone who logs on during the duration of the collab will receive a free pull from the Samurai Shodown Memorial Egg Machine. Plus, anyone who completes the tenth floor of the Samurai Shodown Quest Dungeon will receive yet another free pull!
Enjoyed this article? Share it!