SCUF Gaming Reveals Their New Rocket Series Controllers
SCUF Gaming had a new reveal this week as the company unveiled its new Rocket series of controllers, as well as an Origin PC. The lovely little mix of red, white, and blue looking somewhat smokey or cloudy reminds of the old-school Rocket Ice Pops. Which is fitting to see them be released during the summer. As you might suspect from SCUF, everything about these is customizable from the four paddles to the removable faceplate to the interchangeable thumbstick to the adjustable triggers. Made with the same love and care you expect from the company so it can also take a beating and still be one of the best customizable controllers on the market. The price is really what's going to make you decide whether or not they're worth the cash as the PS4 version is going for $160 and the Xbox One version is going for $170. You can read a little more about them below, as well as see their detail with Origin PC.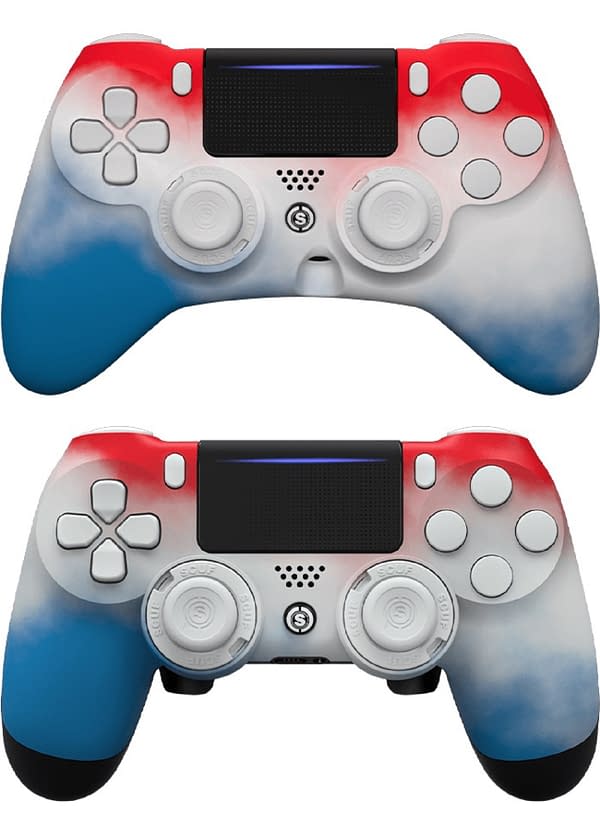 SCUF controllers are configurable to the style of each gamer, providing measurable performance improvement via unique back paddles, ergonomic grips, tunable trigger stops, and variable thumbstick lengths. Our latest SCUF limited-edition design is inspired by the best parts of summer, but just like an icy cool popsicle on a hot summer day, this design won't last long.

For the first time, the Rocket design is being released in conjunction with a specially designed ORIGIN PC MILLENNIUM. The ORIGIN PC MILLENNIUM offers the most flexibility and customization ever offered on an ORIGIN PC desktop, pushing the boundaries of PC design. Blending high performance computing with innovative cooling, and the power to customize your machine to your needs, the ORIGIN PC MILLENNIUM offers unmatched PC power.