Skybound Entertainment Promotes Investment In Mega Cat Studios
Skybound Entertainment has announced they have invested a large sum into developer Mega Cat Studios, the company behind WrestleQuest.
---
Skybound Entertainment sent out a promotion this week, letting people know they made a substantial investment in Mega Cat Studios. Mega Cat is currently in the process of developing their wrestling-0theme RPG title WrestleQuest, which Skybound is going to publish, so the move makes perfect sense for everyone involved. According to the press release sent out by the company, the move is a strategic investment as they push forward with their efforts "to expand its global publishing footprint and to partner with top game-making talent and creative teams." Even though they didn't reveal how much money was spent on the reinvestment, it does make one wonder, in an age of acquisitions, why Skybound didn't just acquire the company. We're guessing they probably value them more as an independent source rather than just another asset on the books. We have a pair of quotes from both companies about the investment below.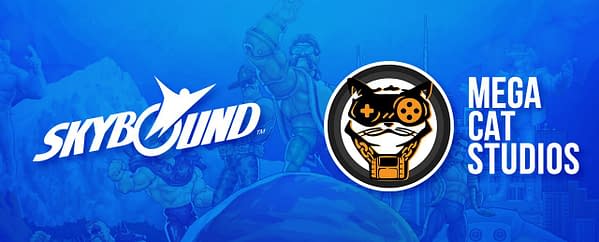 "Mega Cat Studios is an incredibly ambitious and talented team of game developers that are dedicated to their craft, reimagining retro-style entertainment in exciting and innovative ways," said David Alpert, CEO os Skybound Entertainment. "James Deighan and the Mega Cat team embody a culture of fandom, and this closely aligns with our efforts to put fans and creators first. Retro games deliver a massive nostalgic element, and after seeing the progress and creativity on WrestleQuest, we are extremely excited about working closely on the future growth of the studio."
"We are excited to partner with Skybound Entertainment, a true leader that goes beyond games and spans the overall entertainment industry," said James Deighan, Founder of Mega Cat Studios. "Skybound understood our vision early on, and we have had a very successful relationship in developing WrestleQuest. We can't wait to build upon that relationship to explore our creative development process with greater access to other Skybound IP and publisher resources."