Someone Recreated A Zelda Map In Animal Crossing: New Horizons
Sometimes when you're in Animal Crossing: New Horizons, you get bored and take on projects that are insane and fun. If you browse Twitch at any point in time you'll see people have created the weirdest things on their island. From a version of Wheel Of Fortune, to trying to remake the island from LOST, to playing a massive game of the CBS show Survivor with friends doing challenges on someone's island and even going through getting voted off. Basically, the self-quarantine from COVID-19 gave a lot of people time on their hands to take on super time-consuming projects. But none has made us smile more than the one we have for you today as someone sat down and morphed their island to be a recreated map from the SNES classic The Legend of Zelda: A Link To The Past.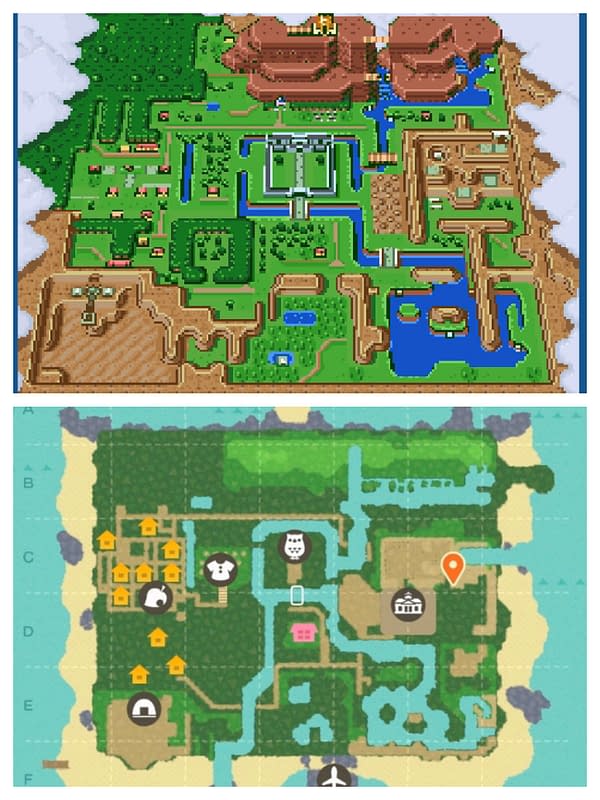 The news broke on Reddit, as the user VaynMaanen spent a multitude of hours turning their island into the classic map from the '90s video game. They actually did it about a month ago, but a lot of people and other outlets are now catching onto the awesome design. Everything is here that could possibly be made using the assets within the game. Including having all of the residents live in the main village to the west, Recreating all the lakes and rivers, as well as the iconic waterfalls. Raising and lowering the land in order to create Death Mountain. Plus a number of other features to essentially make the map look like the Light World side of things. It's not a 1:1 creation as there's just some stuff in Animal Crossing: New Horizons you can't do. But for what it's worth, this is pretty amazing. You can see the island more in-depth as GameXplain went on a tour of the place a while ago.