Sony's 'Groundhog Day' Sequel: It's a VR Game?!
Groundhog Day has come and gone, Punxsutawney Phil did NOT see his shadow this year, and LOGO did their annual all-day marathon of the classic Bill Murray-starring Harold Ramis-directed comedy, Groundhog Day.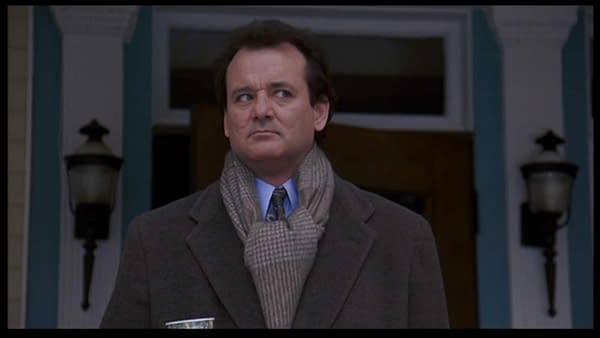 Just this morning, SONY announced a sequel to the film, but not in the way you think.
Apparently Groundhog Day: Like Father Like Son will be a VR game, being currently developed by Tequila Works in partnership with Sony Pictures Virtual Reality.
Reportedly, Like Father Like Son will drop players into a reoccurring day in the life of Phil Connors Jr., son of Phil Connors (Murray) and Rita Hanson (Andie MacDowell) from the 1993 film. The game has the player stuck in a single day, trapped in Connors' home in Punxsutawney until the son, like the father did before him, learns the value of friends and family.
Senior Vice President of Sony Pictures VR Group Jake Zim told Variety:
"We are not developing a new 'Groundhog Day' movie. This is us expanding the storyline into a new format. We've taken 'Groundhog Day' and put it into a musical, now we're putting it into an immersive experience.

We have the ability to flex and pivot as much as we need to. That has allowed us to work within Sony to do deals with companies like the Void (which teamed up with Sony to create a walk-through virtual reality 'Ghostbusters' experience), or create something for multiple platforms, or work in the immersive theater space.

When we launched this business three years ago, we thought we would build small bite-sized games with movie IPs and see what price point we could get up to. But we learned that wasn't what the audience wanted.

'Groundhog Day' is a real attempt to make a real game."
You can see the teaser for the title (released on Groundhog Day, of course) below:
We'll let you know what else we hear about the title.