Special Delivery Charizard Coming Soon To Pokémon TCG?
Pokémon TCG collectors saw it show up in a checklist of Sword & Shield era promos months and months ago… and then, nothing. It's elusive. It's unreleased. Its existence isn't even certain and yet it is somehow selling for hundreds of dollars online right now. The "it" in question is, of course, the mysterious Special Delivery Charizard. So… is it real?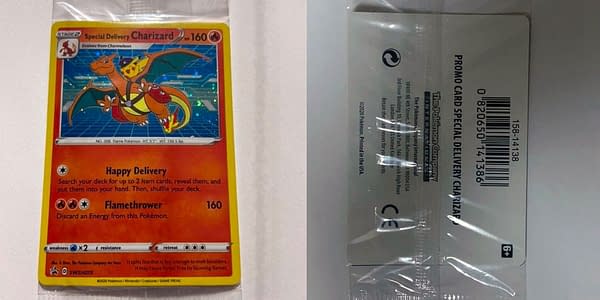 When a new era of Pokémon TCG launches, so too does a new era of promos. These promo sets encompass the entire era, giving completionist collectors (ahem) a numbering system to collect these promos as if they are their own, ongoing set. The most mysterious card in the Sword & Sheild Black Star Promos set is numbered SWSH075. It's the Special Delivery Charizard, which was never announced… but was indeed included in an official checklist, with artwork and everything. It was assumed that it would be handled the same way as the Special Delivery Pikachu: given to those who order a certain amount of products at the Pokémon Center. However, time went on and we now have seen promos as highly numbered as SWSH111 with no sign of Special Delivery Charizard… until now.
Auctions have popped up online with a seemingly authentic Special Delivery Charizard. Long-running Pokémon TCG source Pokébeach has confirmed that these are genuine… and that they are not supposed to be out yet. He wrote:
We can also confirm the cards were accidentally sent out via shipments from the U.S. Pokemon Center store. The copies above were not the only copies released; we received limited reports of accidental shipments last month. Consequently, this may indicate the card is coming soon. (Or maybe Johnny Employee finally snapped and decided to free the Charizards.) This news of course means the promo has already been printed and is now in the hands of the Pokemon Center packaging center. This doesn't come as a shock since the card was revealed seven months ago.
My advice? Do not buy these from someone attempting to get hundreds of dollars based on a mistake… but do stay tuned and ready to head to the Pokémon Center for when this hitter truly launches.