Square Enix and Crystal Dynamics got more in-depth over Marvel's Avengers today during their special War Table live stream. The big reveal we got today is who the main villain is for the game, which is M.O.D.O.K. If you're not familiar with the character, that's okay, most casual Marvel fans aren't as he hasn't been introduced into the MCU yet and has only occasionally appeared in TV roles. Hardcore Marvel fans know him well as he's primarily been one of the biggest forces in the galaxy crossing over multiple comics over the decades. (By the way, the character is getting an animated TV series on Hulu soon with Patton Oswalt as the character.) We have a ton of screenshots from the game below along with some added info of what they revealed in the stream. Which includes the fallout from what happened to the team in San Francisco, the rise of AIM, how missions will work, your armor and abilities, and even a new scene from the game as you get more of the action. Enjoy!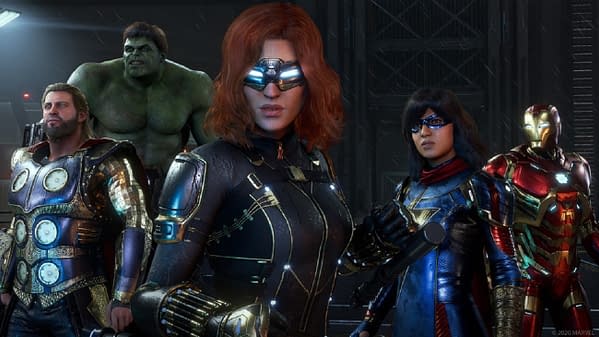 Marvel's Avengers offers players a truly rich experience, with a combination of Hero Missions and War Zones. Hero Missions are single-player only and are part of the initial Campaign. They are designed to showcase each hero's unique abilities as you reassemble your growing roster. War Zones can be played solo or with a group of up to four players as any Hero in your roster. Each mission dynamically scales based on the team size and player level. Players in Marvel's Avengers will also be able to customize Earth's Mightiest Heroes in a number of ways. While each Super Hero will play true to their unique power sets, each will have the flexibility to play differently based on the gear you equip them with and the skills you enable, so no two player's heroes will play in exactly the same way. Each hero has dynamic combo systems, Heroic moves, an intrinsic ability, and signature move sets to unlock and customize – many inspired by classic moves from the 80 years of history in all media, others crafted as originals just for this game.

Players also customize these iconic Super Heroes with classic, fan-favorite, and all-new original outfits inspired by over 80-years of Marvel history, including Iron Man's suit from the 2014 Original Sin storyline, or Thor's Donald Blake identity, which is a nod to an alias of Thor's who first appeared in 1962's Journey into Mystery issue 83. Marvel's Avengers is an ambitious game, starting with a global high-stakes race to rebuild the Avengers. But that's just the beginning. To ensure a continuing heroic experience for all players, the narrative of Marvel's Avengers expands, and threats escalate with each new post-release Super Hero, region and story arc delivered to players at no additional cost once they own the core game.
Enjoyed this article? Share it!