"Star Trek Online: Awakening" Arrives on PS4 & Xbox One Today
Perfect World Entertainment announced today that you can now play Star Trek Online: Awakening on both the PS4 and Xbox One. In this new game, you team up with Lt. Commander Paul Stamets (voiced by Anthony Rapp) from Star Trek: Discovery. Taking on the role of captain, you will embark on a crucial mission to save the Mycelial Network. Oh, and you'll get to deal with a new series of patrols, a new Task Force Operation, and special event challenges to earn a new T6 Elachi ship. Which looks like a cooler version of Voyager. As an added bonus, the devs have teamed up with Groupees.com to raise money for the National Breast Cancer Foundation for Breast Cancer Awareness Month, so any additional items you buy in the game will have 85% of the proceeds going to those efforts. Here's more info on the game!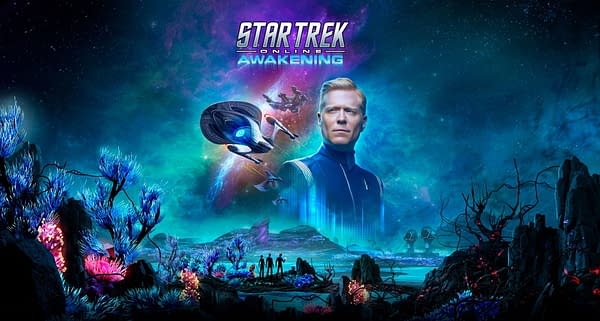 Star Trek Online: Awakening challenges players to recover Mycelial spore technology stolen by J'Ula, sister of T'Kuvma and matriarch of the Klingon House of Mo'Kai. In order to stop the Klingons from causing permanent damage to the Mycelial Network, captains will require the expertise of an astromycology expert. Together they will create a sentient hologram of Commander Paul Stamets (Anthony Rapp) from the U.S.S. Discovery and repair rifts in the fabric of space. Awakening also features exciting new gameplay content for players to discover, including:

Brand New Featured Episode – Captains hailing from all of the game's factions can participate in the new featured episode "Beneath the Skin." Players will depend on a hologram of Commander Paul Stamets from the U.S.S Discovery to safely guide them through the Mycelial Network.

Five New Patrols – Players can embark on a mission with Stamets and Star Trek Online luminaries like Lukari Captain Kuumaarke to close the rifts caused by the Klingons.

New Task Force Operation – Up to five players can participate in this special ground TFO against the Elachi, which tasks them with shutting down probes that threaten to destroy the Mycelial Network.

Mycelial Crisis Event – Captains who participate in this special event can earn the new T6 Elachi ship by playing through the new featured episode, patrols and TFO throughout the next month.

New Event UI – The dev team has revamped the Event UI to make it easier for players to access new special events.

Patrol Systems – A new tab has been added to the PvE system, which allows captains to immediately enter selected patrols and gain bonus rewards.

New Starships – On November 21, players will be able to purchase the new Intel Science Bundle, which includes the Klingon Balth and the U.S.S. Somerville, a starship first introduced in the Star Trek Comics from IDW Publishing.