Star Wars: Shadows Of The Empire Soundtrack Headed To Vinyl
N64 fans will be happy to know that as part of Star Wars Day, the Star Wars: Shadows Of The Empire soundtrack is getting a vinyl release. The game was released in late 1996 as one of the first major titles for the console not made by Nintendo. The game is a third-person shooter with the story taking place between The Empire Strikes Back and Return Of The Jedi, adapted from the Steve Perry of the same name (and also turned into a Dark Horse comic), which is now considered non-canon after the Disney shakeup. It tells the story of Dash Rendar (and we're going to let that name sink in here for a second because this was a way of having a Han Solo character in here without having Han), helping out the gang against a new threat at the time by the name of Prince Xizor. Depending on what kind of Star Wars fan you are, this was either a really awesome side-story that bridged the two films a bit or a weird story that feels out of place while the group is letting Han sit in Jaba's palace.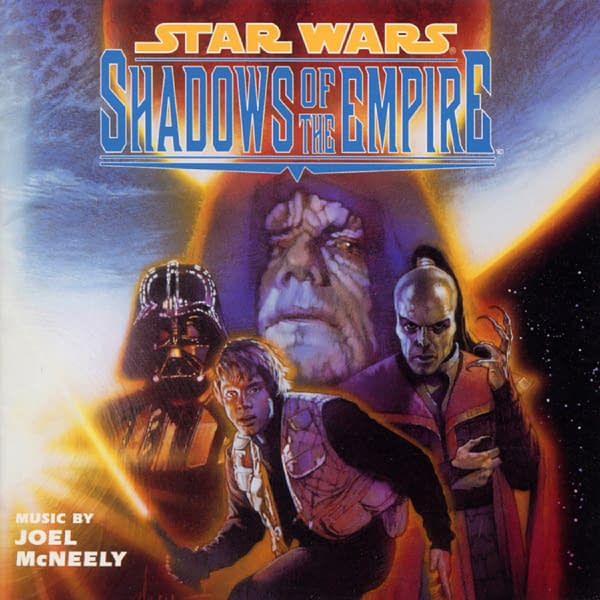 Those who enjoyed that game will be happy to know that the soundtrack is headed to vinyl. The original full soundtrack was composed by Joel McNeely and recorded with the Royal Scottish National Orchestra back in the mid-90s, with samples of it being used in both the N64 and PC versions, but the Windows version is the only one that contains many of the full tracks that weren't cut up and put on repeat. Now Varèse Sarabande Records will be releasing the full album, complete with artwork from the novel/game created by legendary illustrator Drew Struzan (Blade Runner, Indiana Jones, Back to the Future). You can pre-order it on CD for $14 or on vinyl for $22. The album will fully be released to the public on August 7th, 2020.