A Storm Is Coming As TORG Returns With A New Edition
By Christopher Helton One of the big announcements at Gen Con next week will be the return of the classic roleplaying game TORG from German publisher Ulisses Spiele and Shane Hensley, creator of Deadlands and Savage Worlds, and a team of designers and writers to be announced. Speculation has been rampant online as Hensley and others have been posting pictures of a specially colored die from the first edition of the TORG game.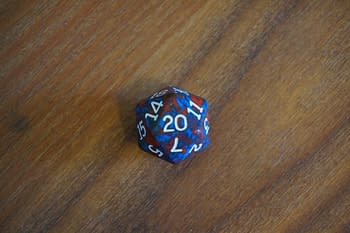 Hensley heads up the United States studio where both TORG: Eternity and The Dark Eye are being created. "Though my plate is pretty full with my own company, Pinnacle Entertainment Group, I couldn't resist working on the game that gave me my start. I also met a kindred spirit in Markus Plotz who truly loves and appreciates what a turning point TORG marked in RPG development, so I just couldn't say no."
The new game is entitled TORG: Eternity, and is a new and updated take on the original game and its setting. The design team includes many who worked on the original Torg line that debuted from West End Games in 1990. When West End Games closed active operations a few years ago, properties were sold off to various publishers. The TORG game's rights when to Ulisses Spiele and related games Masterbook and Shatterzone went to Precis Intermedia.
More news on TORG and the team involved will likely surface at Gen Con but TORG: Eternity will debut in 2016 in a full color hardback format.
Christopher Helton is a blogger, podcaster and tabletop RPG publisher who talks about games and other forms of geekery at the long-running Dorkland! blog. He is also the co-publisher at the ENnie Award winning Battlefield Press, Inc. You can find him on Twitter at @dorkland and on G+ at https://plus.google.com/+ChristopherHelton/ where he will talk your ear off about gaming and comics. He also has a crowdfunding page to help offset costs of this summer's Gen Con coverage.