Strictly Limited Games Opens Pre-Orders For Shinobi Non Grata
Those looking to snag a special physical edition of Shinobi non Grata can do so now as Strictly Limited Games has them up for pre-order.
---
Strictly Limited Games has teamed with Flyhigh Works, Studio PICO, and Esquadra, to release exclusive and highly limited boxed editions of Shinobi non Grata. The retro indie platformer will be coming out on Nintendo Switch and PS4 in the Fall of 2023, and to prepare for that, you'll be able to get your hands on some limited editions, which went up for sale today. The first is the regular Limited Edition, with 2,500 copies for Switch and 1,300 for PS4, both set at $30. The second is the Special Limited Edition, with 1,500 individually numbered copies for both consoles for $50. That version comes with a special box, a manual, a necklace, an enamel pin, stickers, a poster, an art book, and a soundtrack. You can read more about the game below and check out the latest trailer.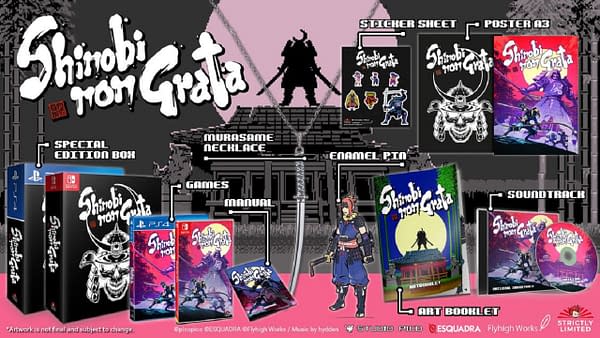 "It is 1838, the 9th year of the Tenpō era – a time of turmoil in Japan. Genba Kisaragi, leader of the Oboro Ittō clan forms an alliance with demons with the objective of overthrowing the bakufu government. Only one dares stand before them; Kaina, the descendent of a bloodline of shinobi specialized in fighting demons. Grab your trusty sword Murasame and survive the bloodshed in this hardcore 2D ninja action game! By using your seven shinobi weapons like Shuriken, Kusarigama, and Elekiter, you'll fight your way through hordes of enemies! Discover many different locations like an abandoned shrine, a valley of ghosts, a ninja mansion and defeat the boss at the end of each… But watch out, they won't go down easily."
Peak 8-bit pixel art reminiscent of the best of the PC Engine and its contemporaries.
Challenging gameplay hailing back to the classics of the genre.
Each boss requires its own strategy and clever use of ninja tools.
Soundtrack by hydden blending traditional Japanese tunes with chiptune sound.
Ninja vs. Zombies!