During D&D Live 2020, Ten Speed Press revealed all of the new books they have coming for Dungeons & Dragons in 2020. Among the new books on the way are a cookbook called Heroes' Feast: The Official Dungeons & Dragons Cookbook, a new specialty journal for adventurers called The Book of Holding (Dungeons & Dragons): A Journal, a new addition to the Young Adventurer's Guide set called Beasts & Behemoths, and a box set for the collection. We have the full details of all these releases below, along with release dates and prices.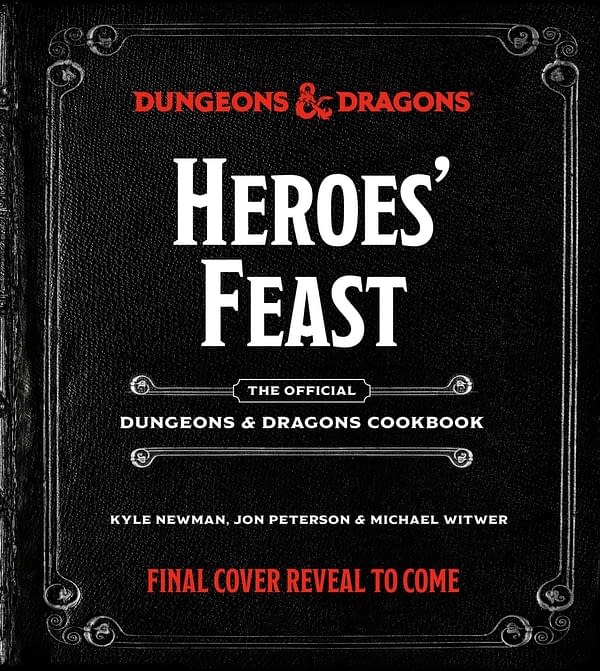 Heroes' Feast: The Official Dungeons & Dragons Cookbook
By Kyle Newman, Jon Peterson, & Michael Witwer
Release date: October 27, 2020
MSRP: $35.00
80 recipes inspired by the magical world of Dungeons & Dragons–perfect for a solo quest or a feast shared with fellow adventurers. From the D&D experts behind Dungeons & Dragons Art & Arcana comes a cookbook that invites fantasy lovers to learn about their favorite fictional cultures through their unique cuisines and lifestyles. With this book, you can prepare dishes delicate enough to dine like elves and their drow cousins or hearty enough to feast like a dwarven clan or a boisterous orcish horde. All eighty dishes–developed by a professional chef from one of the country's top test kitchens–are delicious, easy to prepare, and composed of wholesome ingredients readily found in our world.
Heroes' Feast includes recipes for snacking, such as Bytopian Shepherd's Bread, Iron Rations, savory Hand Pies, and Hogs in Bedrolls, as well as hearty vegetarian, meaty, and fish mains, such as Amphail Braised Beef, Hommlet Golden Brown Roasted Turkey, Drow Mushroom Steaks, and Moonshae Seafood Risotto. There are also featured desserts and cocktails–like Heartlands Roseapple & Blackberry Pie, Yawning Portal Biscuit, and Chultan Zombie–and everything in between, to satisfy a craving for any adventure.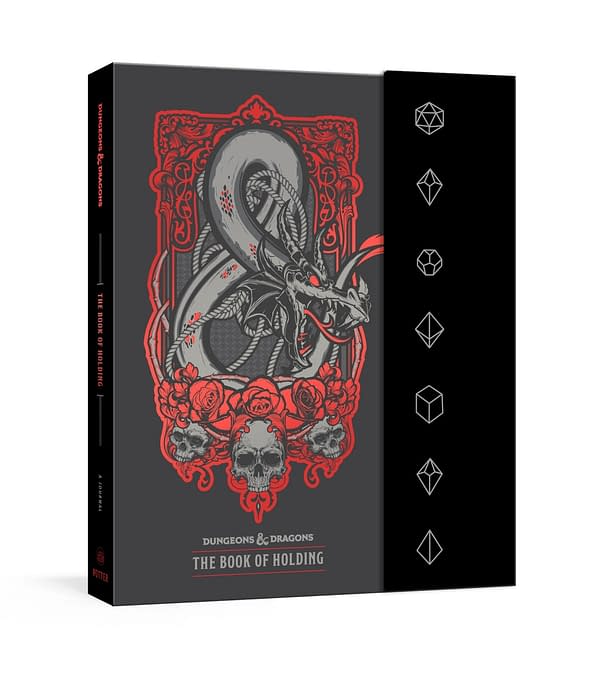 The Book of Holding (Dungeons & Dragons): A Journal
Release date: August 4, 2020
MSRP: $19.99
This officially licensed keepsake journal, lavishly designed with magnetic enclosure and a back pocket, is a must-have for Dungeons & Dragons fans of all levels and ages. Trust this multipurpose journal to stow all your ideas, notes, and to-dos. Highly customizable with five pieces of stunning full-color artwork, The Book of Holding is ideal for capturing character sketches, formulating campaigns, or organizing your everyday thoughts. Whether you're a die-hard dungeon master preparing for your next game session or a part-time player wanting to represent your favorite RPG, this journal is the ultimate companion to your quest.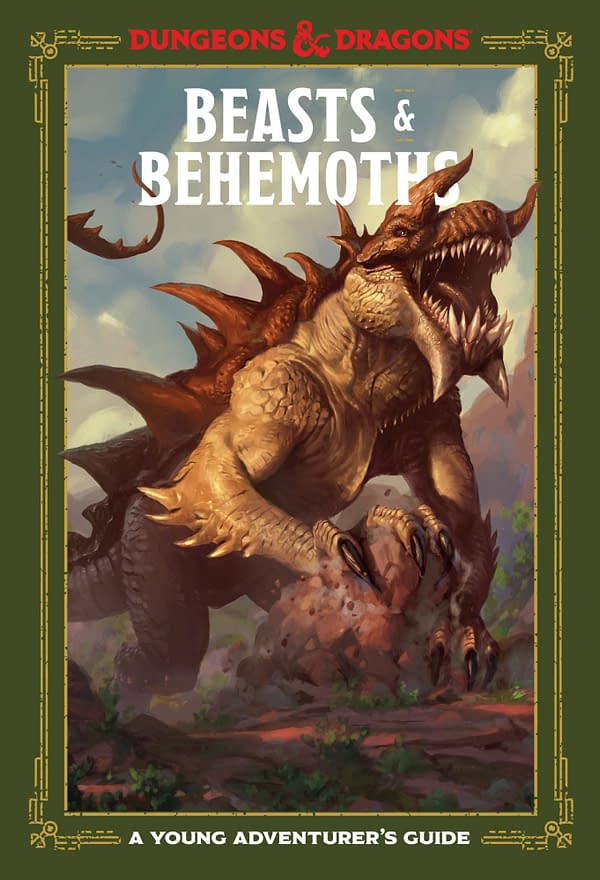 Beasts & Behemoths (Dungeons & Dragons): A Young Adventurer's Guide
By Jim Zub, Stacy King, & Andrew Wheeler
Release date: October 20, 2020
MSRP: $12.99
Study this guide and keep it close at hand–this manual of monsters might save your life! This immersive illustrated bestiary introduces you to memorable monsters in Dungeons & Dragons, from the smallest beasts to the most dangerous behemoths.
This illustrated guide transports new players to the magical world of Dungeons & Dragons and presents a one-of-a-kind course on the unusual creatures, from the minuscule to the massive, that fill the fantastic world of the game. This guide features easy-to-follow and entertaining explanations of where to find each beast, their strange abilities and magical powers, and how to defeat them, along with amazing illustrations that will ignite your imagination. Organized by size from small to large, bigger and more dangerous monsters are introduced with every turn of the page.
Beasts & Behemoths is a perfect way for new players and young fantasy fans to learn about the monsters an adventuring party can meet, with profiles full of example encounters and storytelling tips that encourage creative problem-solving skills when battling beastly foes.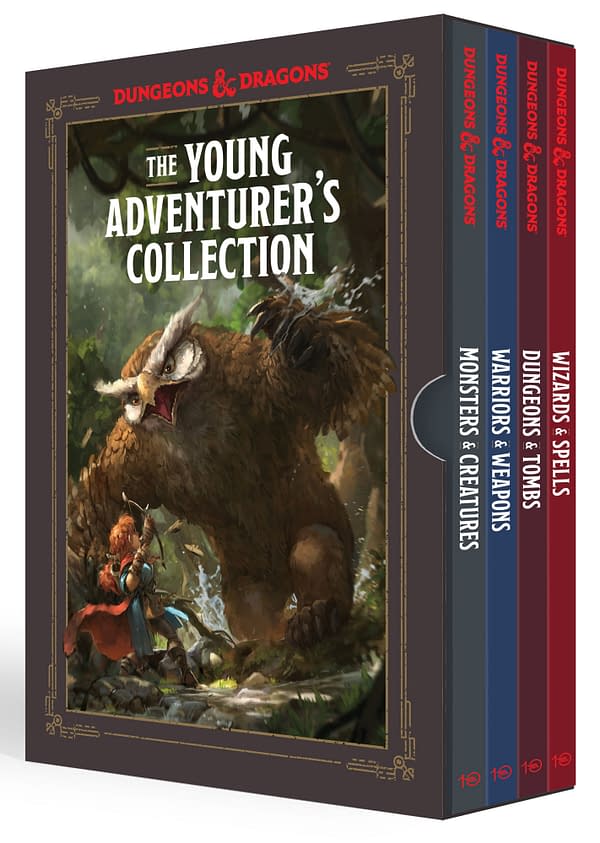 The Young Adventurer's Collection (Dungeons & Dragons Four-Book Boxed Set)
By Jim Zub, Stacy King, & Andrew Wheeler
Release date: October 6, 2020
MSRP: $32.99
Explore the worlds of Dungeons & Dragons and discover your path to adventure with these illustrated, introductory guides for new adventurers. Immerse yourself in the fantastic world of Dungeons & Dragons! This collection introduces young fans to some of the exciting characters, locations, creatures, and magical elements useful for creating your own epic, adventure-filled D&D tales.
Monsters & Creatures shines its torchlight on the beasts that haunt, hunt, and horrify adventurers—from deep underground caverns to wild forests, rocky mountains, and the soaring skies above. Imagine the hero you want to be with guidance from Warriors & Weapons, and equip it with the weaponry, armor, clothing, and equipment that's essential for adventuring—whether you plan to embark on your own or take up a quest with friends.
Dungeons & Tombs illuminates the dark and foreboding corners of the most infamous locations in the worlds of D&D, with tips and tricks to help you survive the dungeons, deathtraps, and dangerous situations you'll encounter in those places. Explore magic in D&D with Wizards & Spells, an introduction to some of the wizards, sorcerers, and enchanted beings that you may encounter on your adventures. Learn about the magic abilities that make them special and decide if you want your own D&D character to have the power to cast spells.
Enjoyed this article? Share it!