We're just a tad interested to see what Nintendo thinks of Alienware's latest gaming device revealed at CES 2020 as they debuted the Concept UFO. The company showed off the device and released more information about it this week as the device is currently in the concept phase. During the presentation at CES, they showed the device as a single unit that could detach the controllers on either side of the monitor and attach them to a controller hub. Which, as you would expect, made more than a few people turn their heads as that looks very familiar. Here's a description of the device from Alienware.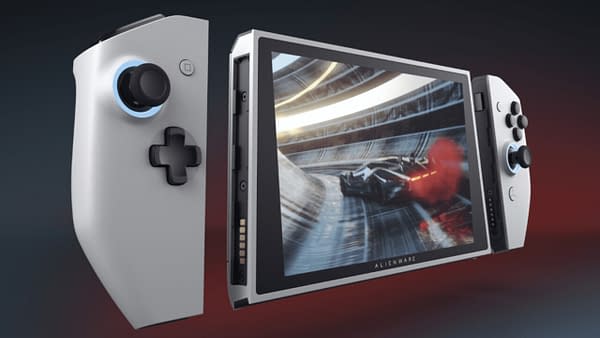 Concept UFO features an 8" screen with 1900×1200 resolution. It also includes detachable controllers, so you can game in a range of modes: as one unit, with controllers attached to the screen; separating the controllers and using the kickstand on a surface to game or stream your favorite show (for example, a table, or a tray on an airplane or train); or connect it to an external display and play using the detached controller, or use a mouse and keyboard as you would any other PC.
Getting to the heart of the matter, there's no way around it, this is a Nintendo Switch ripoff. The look, the controllers, the positioning of buttons, the controller hub… It's all from the Switch's design. Granted, it's playing PC titles and not console games, and the controllers attach in a different way, but those are minor technicalities. Don't be entirely shocked if you see Nintendo file some kind of cease-and-desist against Dell in the next month or so.
Enjoyed this article? Share it!