The Cards Of Pokémon TCG: Sun & Moon – Ultra Prism Part 20
Bleeding Cool's journey through the Sun & Moon era of the Pokémon TCG continues. After our spotlight series breaking down the first three sets of this block (Sun & Moon base, Guardians Rising, Burning Shadows), we now move to a set that introduced a new card type to the Pokémon TCG. Sun & Moon – Ultra Prism was released on February 2nd, 2018 and introduced Prism Stars to the hobby. This style of holographic card could be pulled in the reverse holo slot, making for quite a dynamic pack-opening experience. This set also includes one of the most valuable and sought-after cards in all of the Sun & Moon era. Let's take a journey through the best cards from Ultra Prism.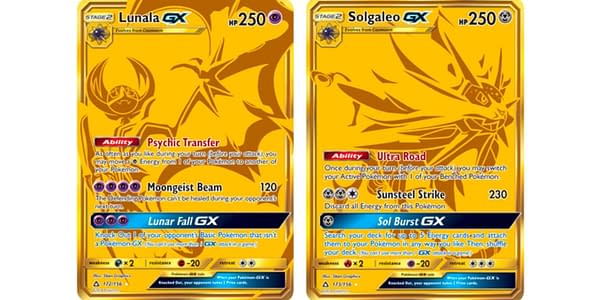 These are the first two Gold Secret Rares we've gotten during the Sun & Moon era that are actual Pokémon. Up to this point, we have seen this style of card for Trainer Items and Energies. Here, we see two Legendaries from Alola on this special kind of card that will be used very sparingly throughout the era. This style of card appears again in Dragon Majesty, the second-ever special set under the Sun & Moon banner, and then again in the third special set, Hidden Fates, with a splash of color added rather than the darker gold lineart. The Japanese Pokémon TCG used more of these in their special set Tag Team GX All-Stars which has largely not been adapted to English, with so far only two of the golden cards from that set coming out as English promos.
This makes Ultra Prism the only main series Sun & Moon-era set to use this style of card, full stop. It makes Ultra Prism a bit more special due to this unique feature that was otherwise reserved for holiday sets.
Next time, the spotlight on Pokémon TCG: Sun & Moon – Ultra Prism continues with a focus on more cards from the set. To follow this series, click the Ultra Prism tag below.