The Cards Of Pokémon TCG: Sword & Shield – Fusion Strike Part 11
The Pokémon TCG has outdone itself with its latest release, Sword & Shield – Fusion Strike. Fusion Strike, which was released in November 2021, is the largest expansion that the Pokémon TCG has ever released with a whopping 264 cards before Secret Rares. The set is partly based on the Japanese expansion Fusion Arts but also adapts several key Japanese promo cards as well as cards from sets like Eevee Heroes that were left out of that set's English equivalent, Sword & Shield – Evolving Skies. Sword & Shield – Fusion Strike is notable for its focus on the Mythical Pokémon Mew and Gengar VMAX, as well as its introduction of a new Battle Style to the competitive TCG with Fusion Pokémon now joining Rapid Strike and Single Strike. Now, let's take a journey through the best cards in this staggeringly large set of Pokémon cards.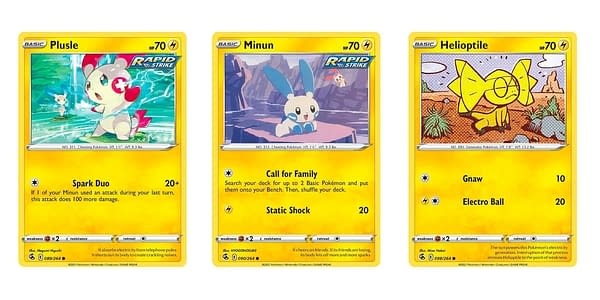 Plusle & Minun: When I first opened packs of Sword & Shield – Fusion Strike right here on Bleeding Cool, I remember my reaction when I saw the Plusle card. I thought "They better have a Minun!" This inseparable duo makes every set that they're in that much cuter. While some of the Pikachu clones can be considered hit or miss, Plusle and Minun are S-Tier Pokémon in my opinion. They constantly show up in each other's artwork and sometimes even show different perspectives of one illustration concept, as with their cards in Black & White – Dark Explorers. Here, we get two different styles with an almost Marvel/DC-style card with an action pose and hyper-rendered coloring on Plusle, followed by a Minun card with soft, cute pastels.
Helioptile: Could Helioptile be the most underrated Pokémon ever? This amazing pre-evolution of Heliolisk shows off its full, gleaming frills in Fusion Strike, but my one critique is that I'd love to see a set that has both this depiction and its normal look.
Next time, the spotlight on Pokémon TCG: Sword & Shield – Fusion Strike continues with more cards from the set. You can follow this spotlight series by clicking our Fusion Strike tag.