Sony has decided to re-released the MediEvil Short-Lived demo again, this time around with some expanded content the original didn't have. The news came down on the PlayStation Blog, where they discussed some of the changes and additions that have come to the game. Here's a snippet of the info from some of the developers about the design which was interesting to read about. Meanwhile, PS4 players can download the MediEvil Short-Lived demo again right now, but no word as to how long it will be around again.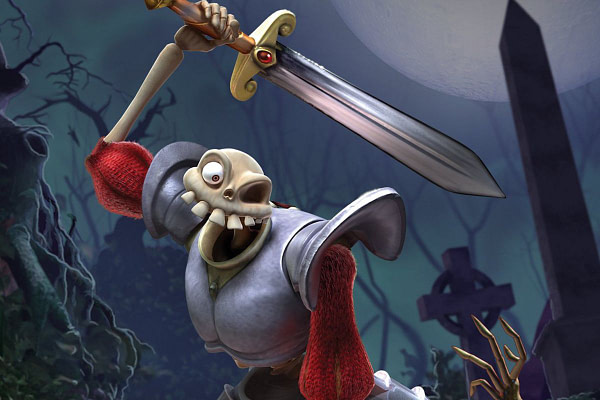 Justin Rosenthal-Kambic, Animation (Other Ocean)

Looking back to the limitations of the PS1 era in the late 90's, the original team at SCE Cambridge Studio did an admirable job with the barest of bones to give Dan a few quirks that conveyed just enough of his personality.

When it came time to build our rig and animate Sir Dan ourselves, we explored and expanded upon those broad-strokes of the original and developed a facial rig that gave us the flexibility to serve both our in-game and cinematic needs. Thanks to a much increased poly count, (60 vs 1,734) and far more joint support, we were able to create a wide variety of emotions to flesh out our interpretation of who Dan was and how he should act in his unique resurrected situation. I was particularly excited to set up the ability to squash/stretch Dan's skull which helped in exaggerating some of his more emotional actions, most notably when he tears off his arm or when he munches on that chicken drumstick.