The "Rainbow Six Siege" Year Five Battle Pass Is Available
We're less than 48 hours out of the Six Invitation, and Ubisoft has already made the Rainbow Six Siege Year Five Battle Pass available for purchase. The one-year VIP premium membership features the six new Operators that will be released throughout the year, saving you from having to purchase individually. There's also a number of VIP additions, as you can see below, that you will get immediately. That includes the Six Headgear and Uniforms and One Hexagon charm, one R6 Aurous Alabaster Signature Weapon Skin, the Jager Byte Set, a 5% Renown Boost. a 10% In-Game Shop Discount, and the Alpha Pack Boost (+0.3%).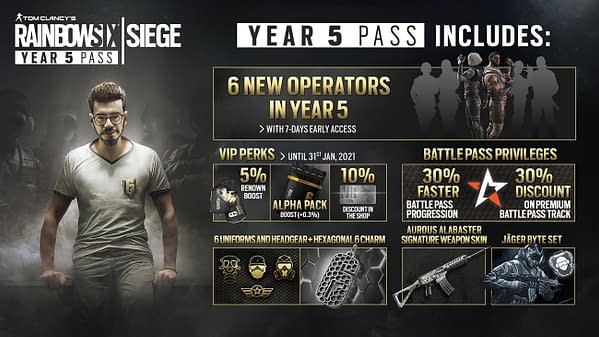 The first two operators you'll get in a few weeks after they made their debut this weekend in the Void Edge package. You may not be getting eight operators this year in Rainbow Six Siege, but the VIP additions are there to help balance out for anyone who believes they somehow lost out. As a side note, VIP perks end on January 31st, 2021, and the 10% discount only applies to purchases made with Renown or R6 Credits.