The Sage Character Has Officially Come To Black Desert Online
After a couple of months of teasing the new character class, Pearl Abyss has finally added the Sage to Black Desert Online. Just to kind of boil the character down a bit from the grandiose stature they've put him on in the artwork, this is essentially a high-powered magic-user who has a small cube called the Kyve from which he gets his power. A lot of what he uses comes from lightning attacks, but there are some other tricks up his sleeve that come around when the character gets higher up in level. You can read the full patch notes on him here, and check out a couple trailers showing the character off below.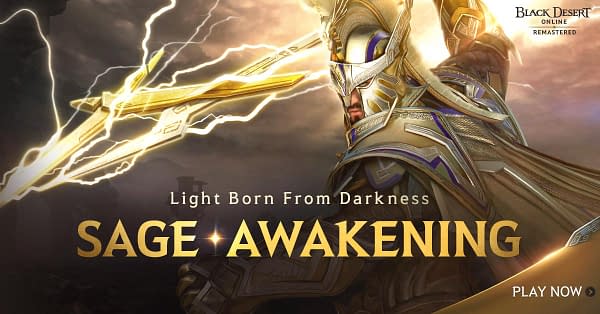 Sage has traded in his cube Kyve for a more conventional weapon: a lightning-powered spear, Kibelius, that allows him to zip through areas and zap his enemies. This master of space and time can also summon the almighty Arkanon to assist him. These shocking new skills will jolt Black Desert Online foes in a flash:

Lightning Prison opens a massive rift in space and calls down a torrent of lightning spears to drown enemies in an electric downpour.
Impaling Flash imbues Sage's spear with lightning and, when thrown, marks enemies who are hit. Sage takes the form of an electric current to rush them in a dizzying barrage. The skill becomes stronger when more enemies are marked.
Divine Executioner has Sage throw his spear into the air and leap up to hurl it at enemies below. The spear releases a shock around its point of impact, and players can change Sage's target and position relative to his enemies with different input commands.
Spear Bolt shoots Sage's spear at foes with all of his might and passes through enemies with an electric charge.