Creative Assembly and SEGA have released a fresh new cinematic trailer for Total War: Three Kingdoms, introducing us to Zheng Jiang, the Bandit Queen. Along with her information and absolute awesomeness shown below, the developers also released info about her second Guanxi, her internal struggles, what she wants, and more. Enjoy!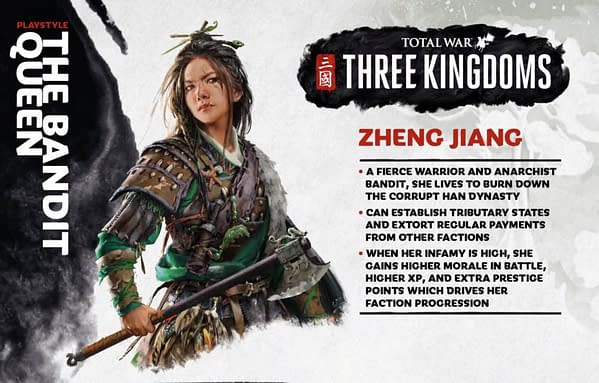 Dynasties and nobility mean nothing to Zheng Jiang: she prefers to seize glory in her own way. As the Han burns, she sees at last the crumbling of an institution she deeply despises – what have they ever known of hunger? What fear have they ever felt for corrupt and avaricious officials? Zheng Jiang has never known the ease of a noble upbringing, nor the expectation of "civilised" society. Instead, she is resolved to earn fame and prestige for herself through merciless fury and unrelenting strength.

Her coming had allegedly been predicted by the scholar Liu Zhen in a dream, with renowned interpreter of dreams Zhou Xuan – said to be right nine times out of ten – warning him that female rebels would soon be at hand.

Unlike some of her fellow bandits, Zheng Jiang is driven by a true political agenda: she wants to see the Han dynasty burn and fall at her hands. She thrives on this vision, relishing her rise to power and the chance to put the old oppressors under her boot to give them a taste of their own medicine.
Enjoyed this article? Share it!