Treyarch has released some new information about bonus physical content to come with Call Of Duty: Black Ops 4 at San Diego Comic-Con. We have details from the press release along with photos, but when the game is released on October 12th, there is an option for a Mystery Box Edition that will include lithographs, patches, a Dark Horse comic, figure pins, a puzzle, and the game in a steelbook for the game. Activision also threw in the ability to buy four figures from the Zombies mode of Black Ops 2, as you can see below, with info on how to pre-order the first figure at SDCC.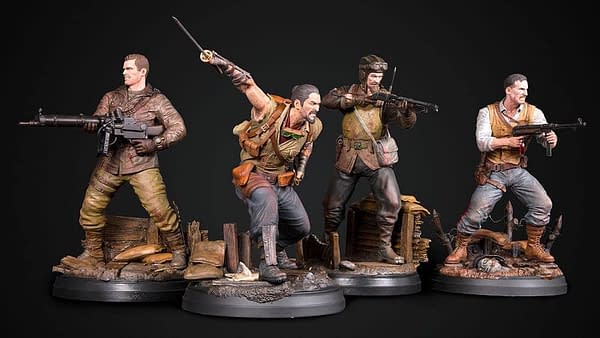 "Blood of the Dead" is a reimagined, fan-favorite Zombies experience takes the classic Zombies heroes — Richtofen, Dempsey, Takeo and Nikolai – on a journey to a secret laboratory beneath the iconic Alcatraz Penitentiary. Encountering a familiar enemy Hell-bent on imprisoning them for all eternity, the Primis crew quickly realize that the future predicted by the Kronorium – the future they sought to secure – is now in jeopardy. Additionally, Treyarch revealed the Call of Duty: Black Ops 4 Mystery Box Edition. The Call of Duty: Black Ops 4 Mystery Box Edition is a limited edition packaged with a ton of items in a collectible box inspired by the in-game Zombies mystery box, and features a skeleton design and lights and sounds from the game.

Call of Duty: Black Ops 4 delivers the biggest Day 1 Zombies offering ever with three full experiences at launch: IX, Voyage of Despair, and Blood of the Dead. With an exciting new adventure and a brand-new cast of characters, Call of Duty: Black Ops 4's Zombies will feature the deep gameplay and Easter eggs that its fans have come to expect. And last but not least, Activision also announced the Call of Duty: Black Ops – Origins Statue Series, based on the Black Ops II – Origins Zombies experience, will include the four Primis Zombies Heroes: Richtofen, Dempsey, Nikolai and Takeo, fully authentic and detailed in 1:6 scale. The first statue, Richtofen, is available for pre-order now at the San Diego BAIT Store at 920 Fifth Avenue. Fans can grab a closeup look at the statue starting tonight at 5:30pm PT and throughout Comic-Con. While at BAIT, you can place a pre-order for Richtofen, or you can also pre-order it on the Official Call of Duty Store website.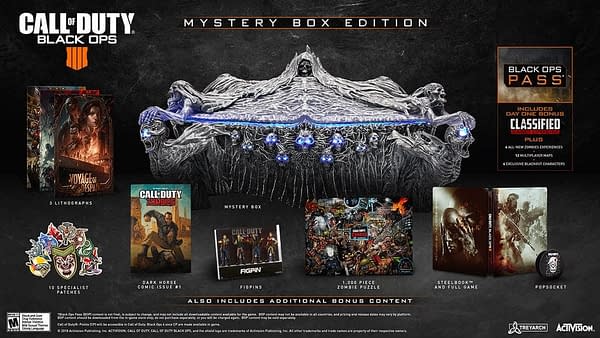 Enjoyed this article? Share it!