Tribes Of Midgard Season 2 Will Launch December 14th
Gearbox Publishing revealed that Tribes Of Midgard will be getting Season 2's content released on December 14th. The content is set to drop into the standard edition for PC and PlayStation on the 14th, as well as on the Deluxe Edition, which will come with platform-exclusive armor, weapons, and pets when it's released the same day. Both versions will include Season 1 and 2 content, as well as all future Seasonal content to keep you updated as the team adds more along the way.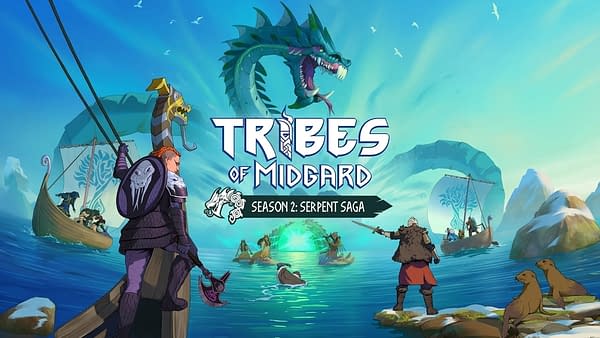 Grab your weapons and craft some Boat Kits, because starting in Serpent Saga, Vikings can explore new horizons of Midgard with the addition of Boats and Swimming. Boats and Swimming are all fun and games, but make sure you don't get too distracted, as you have another Saga Boss to contend with before Fimbulwinter. Players must race against the oncoming winter to find and unlock the island lair of a mysterious new Boss. But fear not, Wolf-fans – Fenrir still awaits those brave enough to choose to attempt to take down both Saga Bosses in the same session.

A New Saga Boss: Just like the fearsome Fenrir from Season 1, you will now have another mysterious but powerful beast of myth to tackle before Fimbulwinter. Take to the seas to find and unlock its Lair, and defeat the beast to stop Ragnarök.

Shipyard: Your Shipyard, located right outside your village on an Ash Beach biome, will need to be rebuilt just like the Quarry, Farm, and Lumberyard. Once rebuilt, you can use resources to craft Boat kits and take to the seas! Smaller boats are flimsier, but are more nimble and require less materials. Larger boats unlocked by leveling up your Shipyard can hold more players, travel faster, and have more HP, but cost more resources. With different tiers of boats, players can choose the right boat for their playstyle.

Boats: Vikings can now sail the seven seas by building and constructing Boats crafted in the Shipyard. Boats can be placed and built through your Construction Inventory, but only in the Open Seas off a coastline, shore or cliff – not in rivers or ponds.

Swimming: For shorter trips, or on the off chance your ship takes a turn for the worst, Vikings can now swim! While a quick lap or trip back to an accessible shoreline or Boat ladder is fine, swimming is limited by your Viking's Stamina gauge – so make sure you're back on your boat or dry land when that bar hits zero, or you'll start taking damage until the water claims you.

Exploration: Explore the Open Seas and access uncharted islands off the shores of Midgard to find Merchants and new Beacon Camps filled with turrets and brand new enemies! The expanded map allows you to discover new lands full of resources, enemies, and loot. However, there is also a greater challenge, as you will have to traverse this expanded world to unlock and defeat the Saga Boss before Fimbulwinter.