Wandering Sword To Launch Free Demo For Steam Next Fest
After being teased for nearly a year, Wandering Sword will debut at Steam Next Fest with a free demo on February 6th.
---
Spiral Up Games and The Swordman Studio confirmed this past week that Wandering Sword will be getting a free demo on Monday for Steam Next Fest. Originally announced early last year with some hints of what was to come last Spring, it appears the team is ready to give us a sampling of what's to come from the Wuxia-style RPG. You can check out the latest trailer down at the bottom before it comes out tomorrow.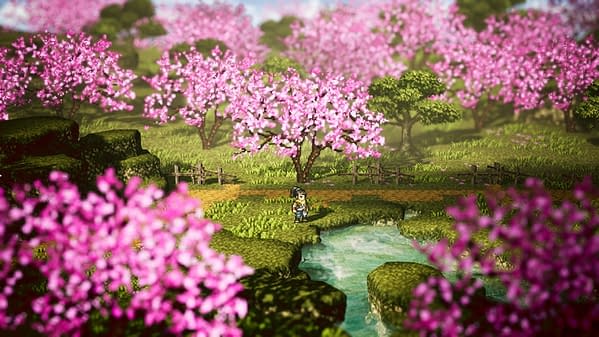 "Wandering Sword is a Chinese martial-arts RPG where you play a young swordsman caught up in a feud and nearly dies. As a young pugilist, gamers traverse across ancient China to escape enemies. They will meet new acquaintances and forge new friendships. They will go on quests to help the weak and resolve misunderstandings while strengthening their skills as a martial artist to eventually leave their mark on China's Wuxia history."
Traverse ancient China painted in beautiful pixel art – The game is developed in Unreal Engine and uses beautiful pixel art to showcase an open world with bustling ancient Chinese towns, scenic mountains, picturesque rivers, dangerous lairs, treacherous terrains, and more.
A vast library of martial arts moves and weapons – As you explore the lands, you will discover hundreds of martial arts forms and weapons to master and wield. You will learn how to cultivate your energy through meridian points and become an expert of both the external and internal forms to gain true mastery of martial prowess.
Innovative combat system – Combat is conducted on a tiled board and a unique point is that it allows gamers to switch between turn-based mode or real-time mode during combat. The turn-based mode will suit gamers who prefer the traditional way of playing slower-paced RPGs while the real-time mode will appeal to players who like to think on their feet and dish out attacks as quickly as their fingers can move.
Realistic NPCs – The NPCs in Wandering Sword are programmed to simulate how actual people would behave in real life. As you traverse the pugilistic world and revisit friends and acquaintances, you will notice that they have been keeping themselves busy too with their own adventures and martial arts practice instead of idling around!
Multiple endings and plenty of quests – Wandering Sword offers great replayability. Different choices you make will lead to different endings for the game. There are also a great number of side quests you can opt to take on besides the main quest, which will provide many hours of adventure time