We Got a Preview of Dying Light 2 at E3 That Shows Great Promise
At last year's E3, the crew of Techland looked us right in the eye and said they were not making Dying Light 2. and that their attention would be on making more content for the original for the dedicated fanbase they earned. …Liars! Fake outrage aside, it was pretty cool to see that the company basically hid their work on a sequel under the guise of providing all this DLC content for the first one. Sure, we did get DLC packs, but not as much as they promised, and even if it is a lie, it was a good lie to hide a product when everyone leaks new game news.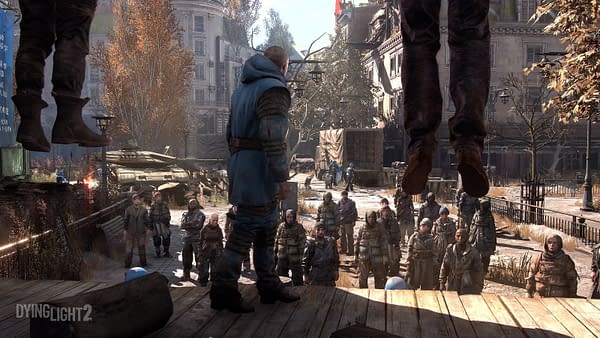 Unfortunately, we did not get to try out a demo of the game at E3. We got a walk-through of the game at a very specific point in time, a few decades after the first game which they're calling the "Modern Dark Ages". They showed off the unnamed European city in which you'll be playing in, filled with zombies and cleared out places and factions you'll need to deal with. The section of the game we were shown gave us a preview of the insane parkour skills you'll need to navigate the city, so if you hate running and jumping and climbing games, this may not be your jam. We watched them climb to the top of a water tower where the only clean water in the city was.
At the top we were given a choice: fight the two guys protecting it and hand control of it over to the main peace-keeping force, or make a deal with them and profit off of it. We were shown the consequences of both actions where giving it to the peace-keeping force gave everyone free clean water but they lived under strict guidelines that were punishable by death. On the other hand, doing business gave us a lot of perks but the section of the city needed protection with blacklights at night and loyalty was always being tested. Dying Light 2 will be an interesting experience when they finally release it sometime in 2019.