As April came to a close we got one last subscription box on our doorstep for the month, and that was the Loot Crate DX box. These are always an interesting treat to open, and aside from one teaser item they showed off, we really didn't know what to expect this month. So let's crack it open and see what we got.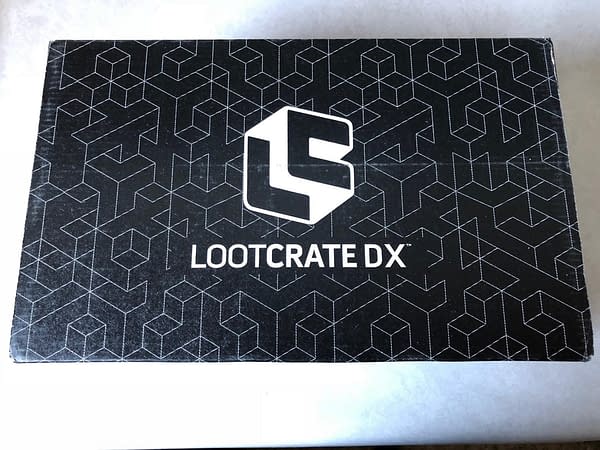 The theme for this month is "Artifacts", and first up we have the pin, which is a Buffy the Vampire Slayer-themed pin. This is Buffy's slayer handbook, that didn't but probably should have come with a vampire t-shirt for Willow. The artwork on it is nice, but it's basically a picture of the book and not really anything made with a hard design or enamel touch. It's kind of a so-so pin, we're sure Buffy fans will like it, but it's just okay for average fans.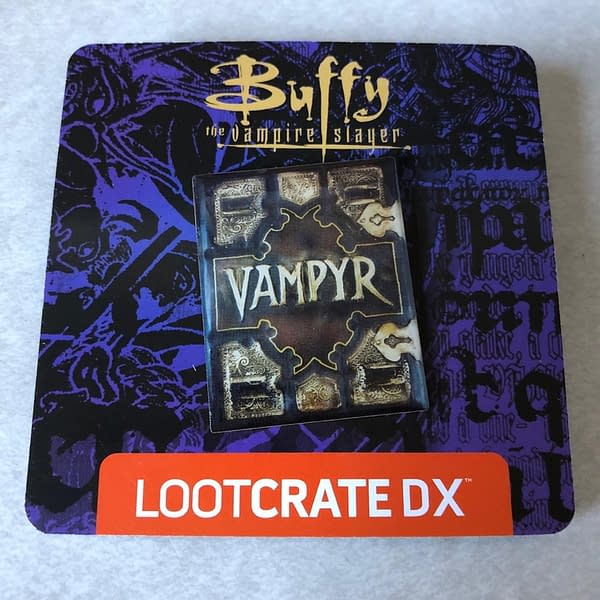 Next up is a special DK Books guide made for the crate called Marvel The Avengers: The Essential Guide Book. The book is pretty cool because it contains information on all of the Avengers and characters who have appeared in all of the films to date, but the content focuses more on their canon in the comics than what's on the screen. It's a great guide to introduce film fans to the comics universe, and you gotta give credit to DK for basically putting together a simplified version of the encyclopedia guides they've already done.
Next is the weirdest items we've received in a while as we got a pencil production drawing from He-Man and the Masters of the Universe. As the certificate below shows you, these are actual drawings used in 1983 to create the series in storyboard mode before they were animated. It's weird because, while I do appreciate having some vintage art, this is a mostly blank page with the exception of Teela running in from the right. I can't even pinpoint what episode this might be from. If this is your thing, then this is a work of art that needs to be framed. But for me, even being a cartoon love and a He-Man fan, it's so awkward having a mostly blank piece of paper.
Moving onto the display item of the box, we got a God Of War exclusive with a replica of Kratos' shield. The display is basically just two items, the shield and the rock mount it sits in. The design is set up so that you put one of the ends into the base while the other sticks up, but honestly, you can set it up any way you wish and it will still display right. It looks pretty awesome and would make a great desk piece or shelf display for a God Of War lover.
Finally, the make-or-break item of the box, the t-shirt. This month is a little different as Loot Crate partnered with Wizards of the Coast to make a unique long-sleeved hoodie shirt with this awesome Dungeons & Dragons design on the front. Throwing a little geeky tone into a Jaz-Z tune with this two-color print of a Lich coming toward you.  The material is thin which makes it feel like a regular long-sleeved shirt with a hoodie sewn on the back that covers up well. This is the kind of hoodie you throw on under a jacket and the combo works really well. This is an awesome addition to the crate.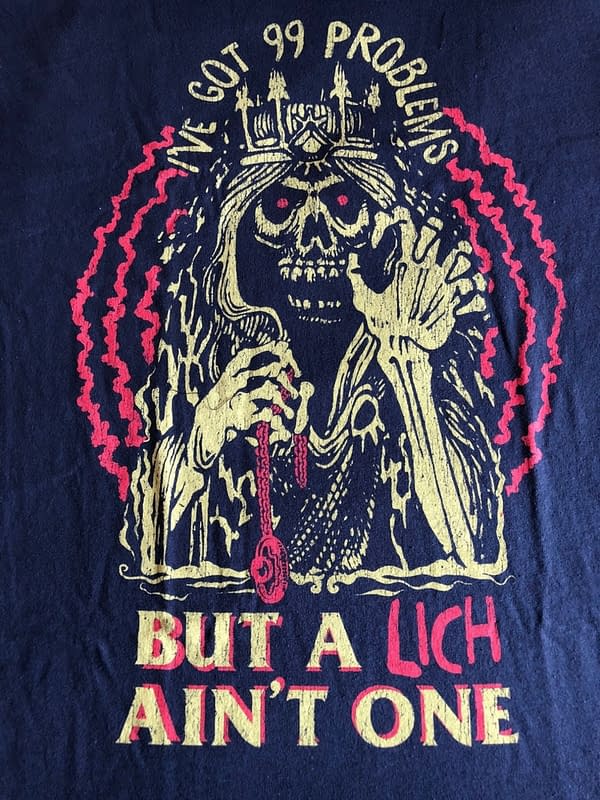 Overall, we're kind of in the middle of the road with this one. A couple of the items are cool, a couple not so much, and one really confusing item that I don't know what to do with. It's not a great box, but it isn't a bad box either; it's just kind of in the middle. I do want to see what they do with it next month and if they can bring it back up a level like the previous month's was. But I will say without that hoodie, this box probably would have been a failure for the month, so kudos to them for the partnership to make it happen.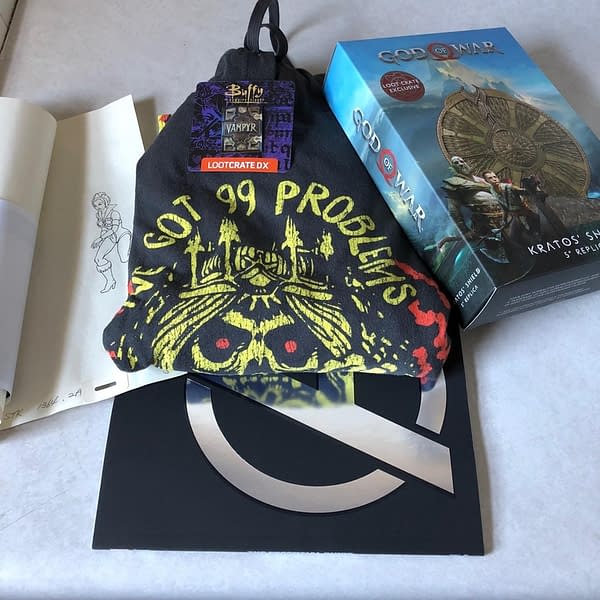 Enjoyed this article? Share it!