WWE 2K Battlegrounds Will Be Released In Mid-September 2020
2K Games revealed this week that WWE 2K Battlegrounds finally has a release date as it will drop onto PC and consoles in mid-September 2020. Developed by Saber Interactive, the game will take a much more cartoonish look at the superstars, both past and present. The game is also pretty much serving as a replacement title for what would have been WWE 2K21's spot, which the company canceled in favor of releasing this game. Which is fine considering how that last game received so much criticism for being janky. This one looks to serve as a nice change of pace for a year with some fun mechanics as its a wrestling game that's not meant to be taken so seriously. You can check out a new trailer below along with screenshots and a proper description of the game's mechanics as it will be released on September 18th, 2020.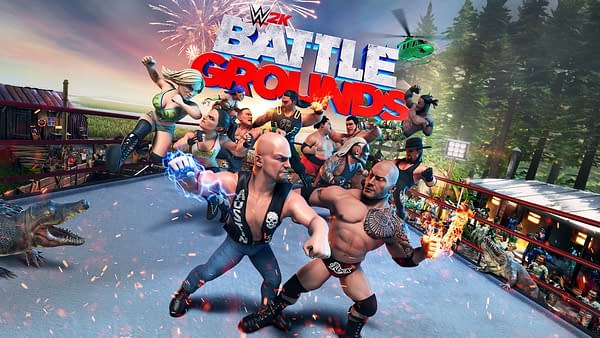 WWE 2K Battlegrounds is designed to be easy to pick up and play, but challenging to master, with more advanced techniques to be learned and skills to be unlocked so players of all skill levels can enjoy the action. A roster of today's biggest WWE Superstars, including Roman Reigns, Drew McIntyre, Charlotte Flair, Becky Lynch, Asuka, Daniel Bryan, Kofi Kingston, Randy Orton – combined with Legends – including Andre the Giant, Undertaker, Mankind, Shawn Michaels, Yokozuna, Sgt. Slaughter and many more, offers fan favorites for all generations of the WWE Universe to enjoy, with more unlockable Superstars to come via free updates in the future. Each Superstar utilizes one of five class styles, and each class style has its own combat moves, strengths and weaknesses. Choose from the Powerhouse, Technician, High-Flyer, Brawler and All-Rounder to find the style that works best for you. Arcade-style powerups, such as Flaming Fist, Ice Breath and Earthquake, are accompanied by colorful visual effects, offering extra excitement and an additional dimension of strategy that can quickly change the direction of a match.