You Bloated Sack Of Protoplasm: We Review The Ren & Stimpy Pixel Pals
A couple of new Pixel Pals came our way last month from PDP, and this set got me a little more excited than usual because it took me back to my teenage youth where I started getting exposed to shows that were both for kids and adults. This time around we got Ren & Stimpy, a couple of Nicktoons originals from back when Nickelodeon was cooler than cool. Like all Pixel Pals, they run off two AAA batteries in an easy to access compartment on the back. These also work with the special USB adapters you can buy for Lizel pals that run off a small cord being plugged into the back that replaces the batteries and the snap-on case if you so desire. I still wish they made a version of those that could be charged, but I guess baby steps. Looking at the characters themselves, these are both surprisingly detailed. As you can see from ren, they have different shades of tan and pink going into his design so that he has the put belly and the liver spots on his head. The shades of pink used for his ear, eyes, and nose are well patterned out so that he has a bit of definition to his design. While Stimpy wasn't as detailed as Ren in the series, the mixes of light red and white bring out his design, as well as two shades of blue on the nose to make him stand out. I especially loved the addition of the tongue with two shades of pink to give him that "stupid cat" look he had throughout the show.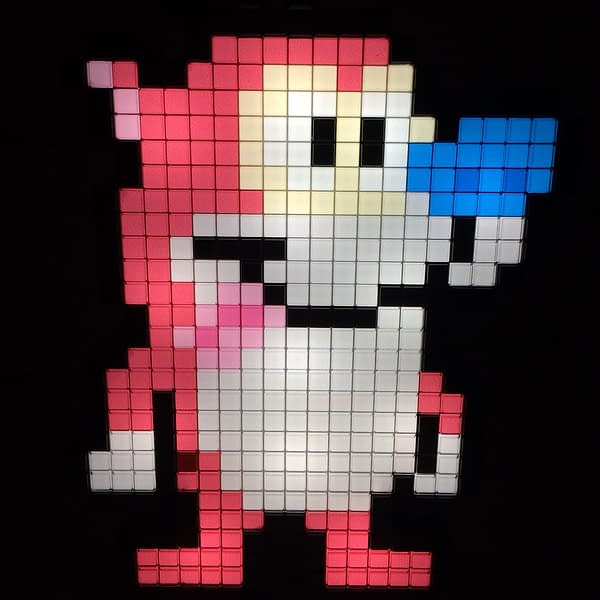 I don't quite know why, but I feel like these were two of the best-designed creations PDP has made for Pixel Pals. Maybe it's just a matter of cartoon characters having an easier design than most video game characters who weren't from the 16-bit era, but having these makes me feel like a kid again and they feel like toys Nickelodeon might have produced back int he day if the technology was around. And you know you would have bought a Ren & Stimpy nightlight if you could. Awesome work on these designs and I hope we see more from Nickelodeon down the road!