Critical Role will be bringing back (most of) the crew from Vox Machina for a one-night live show to fulfill a very specific one-shot episode. "The Search for Grog" will take place on January 19th, 2018, at the Theatre at Ace Hotel, with tickets being sold between December 15th-16th to attend. The show will feature most of the cast returning to their Season One roles with Laura Bailey as Vex'ahlia, Sam Riegel as Scanlan, Marisha Ray as Keyleth, and Taliesin Jaffe as Percy. Meanwhile, aside from Matthew Mercer playing as the DM, both Liam O'Brien and Travis Willingham will be playing as new original characters, since Willingham's Grog is missing his soul during this adventure and O'Brien's Vax'ildan was spirited away at the end of the campaign by The Raven Queen.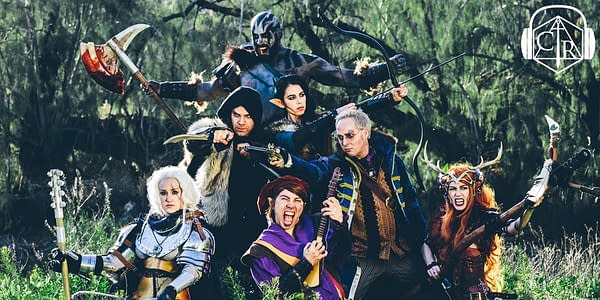 For those who may have forgotten this particular tale, and we have footage of the beginning and end of it below, "The Search For Grog" is essentially an untold story in the Vox Machina campaign. In the last episode of the first campaign, Grog pulls a card from The Deck of Many Things, one of the rarest items a DM can throw into a D&D game, and he happened to draw the worst card possible with the Void card. The card stole his soul, leaving the remaining members to go on an adventure to find his soul in the Halls of Pandemonium. Two small notes about this show, the first is that Ashley Johnson (Pike) is not on the list to appear, which is kinda sad since it is canon that Pike is a part of the adventure. But Johnson was a last-minute addition to the NYCC show, so here's hoping the same will happen here. Second, it appears there are no plans to broadcast the show live at the moment, and the original announcement has now removed plans to broadcast a recording on their Twitch channel (for now). Hopefully, that changes soon, as I'm sure a lot of Critical Role fans would love to see how this specific adventure goes.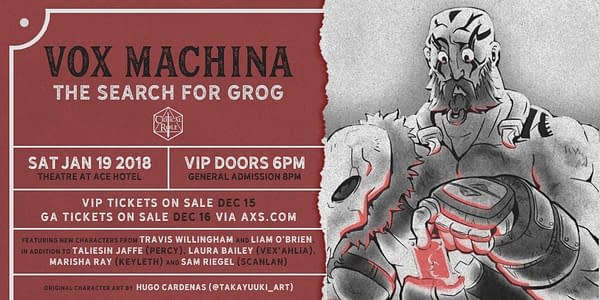 Enjoyed this article? Share it!