Zen Studios Announces Williams Pinball: Volume 6
Zen Studios announced today that they will be bringing more pinball action to PC and console as Williams Pinball: Volume 6 is on the way. Right now we only have a preview of three games in the collection which includes Funhouse, Space Station, and Dr. Dude and His Excellent Ray. But as you can see from the screenshots and announcement trailer, these all look pretty superb and bring to life some awesome pinball titles the company has made over the years. With a few extra add-ons because, why not? The release date has been set for it yet, right now we just know it will be coming to Steam on PC, all three major consoles, as well as mobile for iOS and Android. You can read more about the collection below.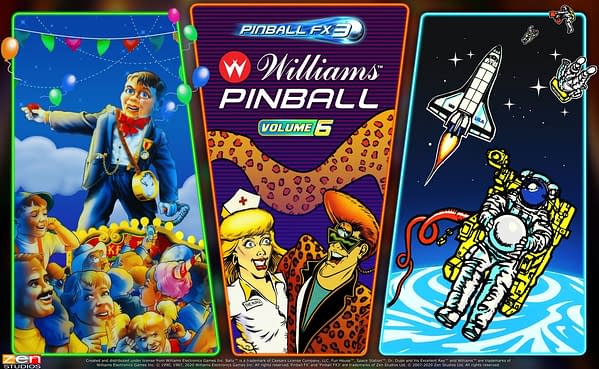 Step right up to the Funhouse as the iconic ventriloquist dummy Rudy taunts you in his fantastic amusement park world full of Mystery Mirrors, Wind Tunnels, Crazy Steps, Superdogs, Trapdoors, Gangways, Hidden Hallways, and his own Hideout. Don't let Rudy's heckling ruin your game! Prepare for liftoff! Explore the wonders of space in Williams Pinball Space Station. Experience the thrill of working at the space station as you dock space shuttles, inspect meteors, and more importantly avoid being hit by them!

Drop into Dr. Dude's Kinetic Clinic in Dr. Dude and His Excellent Ray. Play to get hip, earn respect, and be the envy of your friends. Get hit by the Excellent Ray increasing your score on the Dude-O-Meter, eventually turning you into Super Dude. Just what the doctor ordered! These Williams tables will be available as both classic simulations and re-mastered versions, transforming them into modern-day pinball experiences with enhanced features at the toggle of a button. Williams™ Pinball: Volume 6 also includes Zen's flipper physics system which further perfects gameplay.