9 Things You Probably Didn't Know About Hamilton
Sure, you've heard the Hamilton soundtrack, you saw it on Broadway or on tour, and you've seen the movie on Disney+, but there's an entire world of trivia behind Lin-Manuel Miranda's creation of the cultural phenomenon. While this is by no means an exhaustive list, here are a few fun facts to impress your friends and family as you watch this gem. But beware, this list does include some "spoilers" if you haven't seen it yet, or are unfamiliar with the life of our $10 Founding Father Without a Father, beware.
1. Hamilton ripped off so many things
That's not a dig at Hamilton by any means. All artists borrow. The great ones steal. But if you'd prefer to think of it as "paying loving homage," then you can think of it that way. Regardless, Lin-Manuel Miranda has been very vocal about the things he borrowed for Hamilton. From "Ten Crack Commandments" by Biggie Smalls providing a countdown for "Ten Duel Commandments" to Washington borrowing a reference to Gilbert and Sullivan's Pirates of Penzance by singing about himself "I'm the model of a modern major general" in "Right Hand Man," references to rap and Broadway abound throughout the musical.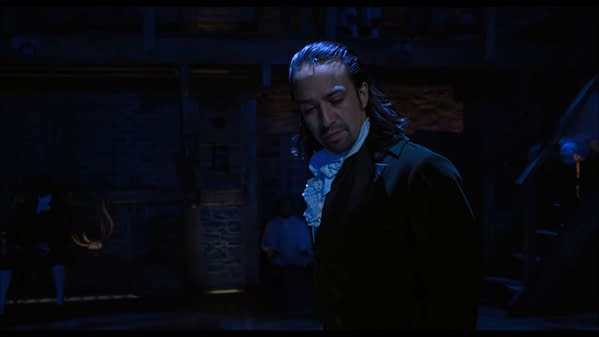 The rap battle track "Cabinet Battle #1" references "Izzo (H.O.V.A.)" at its opening with Washington welcoming the crowd being with them in New York the same way Jay-Z does. It also contains my favorite reference at the end: "Such a blunder sometimes it makes me wonder why I even bring the thunder," a reference to the refrain of "The Message" by Grandmaster Flash. "Meet Me Inside" also references DMX's "Party Up (Up in Here)" and "Cabinet Battle #2" grabs another Biggie reference from "Juicy (It's All Good)."
Even one of the most popular tracks, "My Shot," refuses to throw away its shot, packing in more references than almost any other track. When Hercules Mulligan calls at the end to "Rise Up," Miranda points out it's a specific reference to Busta Rhymes in "Pass the Courvoisier Part II." When Hamilton spells out his name, it's an overt nod to Notorious B.I.G.'s "Going Back to Cali" spelling out N-O-T-O-R-I-O-U-S.
But while Hamilton and Mulligan steal from rap gods, the more urbane Aaron Burr refuses to throw away his shot with a gentlemanly reference to Rogers and Hammerstein's South Pacific, "I'm with you, but the situation is fraught / You've got to be carefully taught," and its song "You've Got to Be Carefully Taught." Not content to borrow just from classic Broadway, Miranda also helps himself to references to more modern fare, such as borrowing bits from "Nobody Needs to Know" from The Last Five Years for "Say No to This."
2. Lin-Manuel Miranda and Christopher Jackson are the real-life Hamilton and Washington
In a case of art very much drawing from life, Miranda wrote the part of Washington for his friend Christopher Jackson and wrote much of their close friendship into the roles. Washington and Hamilton were indeed very close to one another, and the emotion of "One Last Time" is certainly based in reality. (Historian Ron Chernow, whose biography of Hamilton partially inspired Miranda, was a close consultant on the production and approved every scene, every song.) But the fondness and camaraderie of these is something beyond even the historical record. The two have a history, going to back Jackson also being in the original cast of In the Heights.
When Miranda appeared on Drunk History, he (hilariously) accidentally drunk-Facetime-dials Jackson and then proceeds to fawn over him and how much he loves his friend. "As long as I have a job, you have a job!" They're really adorable. Hamilton and Washington themselves were nowhere near as much fun.
3. Questlove did what?!?!
Speaking of Miranda's appearance on Drunk History talking about Hamilton, Questlove, drummer for The Roots, also crashed the episode, leading to an impromptu re-enactment of the interruption by the show's Burr (Aubrey Plaza) and Hamilton (Alia Shawkat).
But Questlove has a secondary connection to Hamilton many don't know: he produced the original cast album. That's right. Every time you've listened to the soundtrack, Questlove helped make that mix happen. And that's why Hamilton has always had a special place on The Late Show with Jimmy Fallon where The Roots serve as the house band.
4. A Hidden Message in "Dear Theodosia"
"Dear Theodosia" is my favorite song in Hamilton. Of all the songs on the soundtrack, it is the one always guaranteed to make me shed a tear. It's deceptively simple as a child-friendly ballad, played on the high register of the piano to evoke thoughts of a nursery and children. It works, as Aaron Burr sings to his newborn daughter and Alexander Hamilton to his son Phillip.
Nowhere else is the space between the men so close, as they sing the same lines "My father wasn't around; I promise I'll be around for you." And for the only time in the entire show, the two sing in harmony: different notes, different variations, but the same words and the same sentiments. The two promise they brought forth this new nation for their benefit and look forward to them growing and blowing us all away.
This is the moment. Up until this point, the two men were giant objects orbiting one another by happenstance. In this moment, they perfectly align, and from here out, they will only drift further from each other. It's a beautiful reminder that even among the bitterest of rivals, the things we hope and dream are much the same. Knowing what will happen through the rest of the play only makes this song all the more tragic.
5. Alexander Hamilton isn't the main character. Aaron Burr is.
Think about it. Who sings the first words of the opening song? Burr. He's singing about Hamilton, but he's in control. Who gets all the best songs? (Ok, Peggy and Eliza maybe, but among the male cast?) Burr. Who introduces the Schuyler Sisters in their eponymous Destiny's Child-inspired torch ballad for American democracy? Burr.
Miranda even admits he gave the best songs to his rival, saying," 'Wait for It' and 'The Room Where It Happens' are two of the best songs I've ever written in my life, and he got them both." He opens both acts and ends Act I with "Non Stop." He dominates the end of Act II with "Your Obedient Servant" and tells the story of the fateful duel, all from his point of view, in "The World Was Wide Enough," which ends with a thoughtful reprise of "Wait for It."
This is Burr's story as much as it is Hamilton's. In an alternate telling (and certainly in Burr's mind), it is Hamilton who is the villain, ruining every opportunity for him, instead of his final summation that "Now I'm the villain in your history." Burr spent his entire life being cautious (as typified by "Wait for It"), and Hamilton reckless, so their true ideological divide was not over banks or slavery but simply how you play the game of politics, life, and love.
But the enduring message of Hamilton is that history is all wrapped up in "who lives, who dies, who tells your story." Burr finishes his story, but doesn't get the last word: Eliza does as she closes Act II. Burr died in ignominy as not only the scoundrel who killed Hamilton but also as a failed revolutionary who (allegedly, although he was acquitted of treason) tried to create his own breakaway republic in the Southwest of the newly acquired Louisiana territory. His dear daughter Theodosia died at sea in the winter of 1813. No one left to champion or tell Burr's story. History's eye shone further on Hamilton, whose banking system remained the number one political issue of the first forty years of the existence of our country, until finally being disbanded by Andrew Jackson in 1834. And he had his Eliza to cheerlead his memory.
6. Hamilton's first track was first performed in The White House
Lin-Manuel Miranda originally conceived of Hamilton as a "Mixtape" or concept album rather than a full-blown musical production on stage. When he was invited to The White House as part of a celebration of poetry and the spoken word (thanks to the recent success of In the Heights), he premiered what would become the opening number:
It's a little raggedy and not the showstopper it would become, but even in its proto-form, that slaps. Hard. It took him a year to write the first song, then another year to compose "My Shot," telling 60 Minutes that "every couplet needed to be the best couplet I ever wrote."
Lin-Manuel Miranda would continue to workshop and write music, including writing the breakup song "You'll Be Back" on his honeymoon and "Wait For It" on the subway on his way to a friend's birthday party. In January 2012, three years after his White House debut, he then premiered a dozen songs as The Hamilton Mixtape at Lincoln Center in their American Songbook series.
The original cast of Hamilton would appear at The White House "One Last Time" to "show 'em how to say goodbye" to President Barack Obama, who, according to Questlove, won't shut up about The White House being the place where it all started.
7. "Immigrants: we get the job done!" Not so fast.
The politics of Hamilton are amazing. It is a rarity to not only have a major production that is almost exclusively made up of people of color but have it be extremely popular, and have them singing about revolution and their liberation. Given our current situation, this could not be more perfect for our cultural zeitgeist.
So when Hamilton and Lafayette high-five each other and talk about how immigrants get the job done, that's only telling part of the story. Yes, Alexander Hamilton was an immigrant from St. Croix, a British colony in the Caribbean. Yes, he fought a revolution for inalienable human rights. Unfortunately, upon getting his hands on power, he was not necessarily interested in keeping the door open for others.
In 1798, the Federalist Congress and President John Adams passed then signed into law the Alien and Sedition Acts. Fearing new immigrants would side with the Jeffersonian Democratic-Republicans in future elections, Adams, Hamilton, and the rest of the Federalists put in place a series of restrictions on immigrants and immigration, as well as making it illegal to publish anything disparaging of the president or other government officials.
Hamilton threw gasoline on this nativist fire in June 1798 when he called the Jeffersonians "more Frenchmen than Americans" in the Gazette of the United States. He further claimed that they were prepared "to immolate the independence and welfare of their country at the shrine of France."
So, the long-lasting bromance with the French and celebrating immigration and free speech? Not so much. Somehow Lin-Manuel Miranda sort of skipped over this inconvenient chapter of history. But why let "the facts" get in the way of a good story? Let's continue to ignore this dark chapter in our history the way we do all dark chapters in American history (which is basically all really dark and hypocritical except for, like, Star Trek, comic books, and Hamilton) and celebrate, amirite?
8. A Terrible Foreshadowing
One of the best-repeated motifs in the show is the countdown for "10 Duel Commandments." Introduced fairly early in the show, it also, of course, is used in the Act II songs dealing with the fateful duels.
You may not have heard it in an earlier song where it's not quite apparent. When young Phillip Hamilton sings his first rap (so cute!) earlier in the song, he's singing: un-deux-trois-quatre-cinq-six-sept-huit-neuf, which is counting to nine.
The melody is the same from the "10 Duel Commandments," a chilling foreshadowing in what is otherwise a song about Hamiltonian domestic bliss. Lin-Manuel Miranda has been open about establishing the musical themes of the show early, but this one remains rather ghoulish in context.
9. "Guns and Ships" breaks records
Lafayette's rap in "Guns and Ships" is fast. How fast? It holds the record for most words per minute of any song in Broadway history, at one point blazing through 19 words in 3 seconds. Eat yer heart out, Stephen Sondheim.
Daveed Diggs, who originated the role of Lafayette in the Original Broadway Cast (and in the Disney+ version), always the humble one, told Jimmy Fallon, "It's not not fast. It is absolutely fast. But in the rap world, that's medium-fast. It's fast, but in the rap world, there are faster."
The evolution of Lafayette's rapping abilities is also an integral part of the plot. While during "My Shot," he's struggling and questioning his words, "Onarachy? Ho-ho-ho. How you say, anarchy?" by the time Yorktown comes around, he's fully ready to get the job done.
"Guns and Ships" is his coup de grace, showing the battlefield acumen of the French general in verbal ability. It's a triumph musically, lyrically, and as a symbol of historically.
Nine of these facts is barely enough because Hamilton is just such a deep musical. For more stories behind the lyrics and history of Alexander Hamilton, I highly recommend you a) Follow Lin-Manuel Miranda on Twitter, buy his book of annotated lyrics which include all sorts of references, and also read his contributions explaining the lyrics over at genius.com.
Until then, enjoy Hamilton as much as humanly possible and think of how much better things can be if we are willing to work, work to put ourselves in the sequel. Work!