A Moriarty TV Show From Lee David Zlotoff, The Creator Of MacGyver, And Tony Lee?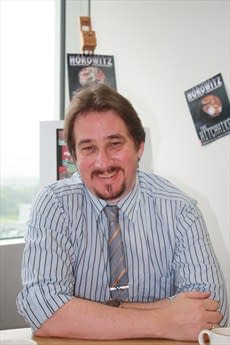 Our Little Sherlockian Bleeder reports:
Today was the first day of the Elementary convention by Starfury Conventions, in Birmingham. Tomorrow the big draw is Benedict Cumberbatch, Sherlock himself, but today they started with someone more used to attending their Doctor Who conventions, comic (and now screen) writer Tony Lee.
Interviewed by the Baker Street Babes on the main stage, Lee talked about his Baker Street Irregulars books, his Sherlock Holmes/Dorian Gray Big Finish episode and his love of Professor Moriarty. And it was here he gave the convention a bit of an exclusive.
Apparently Lee is off to Los Angeles on Monday to pitch two movies, but also has a TV show in development, co-created with 'MacGyver' creator Lee David Zlotoff.
Called The Last Moriarty, Lee wouldn't give too much away, just that it involved a modern day descendant of Professor Moriarty in America who not only discovers that he is the last surviving male heir, but also that he has inherited the centuries old Moriarty criminal empire. Labeled as a 'Sherlockian Blacklist', nothing more is known about the show, but with meetings occurring in the next week with a variety of producers and networks, who knows when more details will escape as more people know.
All we do know is that Tony Lee's obsession with Professor Moriarty is far from over…