"A Quiet Place 2" Has Begun Filming, So… What is it About Anyway?
A Quiet Place 2 has begun filming, and I for one could not be more pumped. The sequel to the surprise horror hit of last year, the film is again written and directed by John Krasinski. The actor announced to fans that the film has started production by posting a picture of the clapperboard on his social media accounts this morning.
As of now, the reported cast will again include Emily Blunt, Noah Jupe, and the sensational Millicent Simmonds will all return for the film. Also reportedly joining them will be Cillian Murphy and Brian Tyree Henry. No word on if Krasinski himself will step in front of the camera again.
Which begs the question: what is this sequel about anyway. Is it a prequel? Will it show society collapsing as the alien invade and tear the world to ruins? Will it pick up where the first one left off, with Krasinski dead and Blunt's character cocking the shotgun to go hunt some aliens with their kids? Will it flash-forward into the future? Will the aliens be defeated, only to return with earplugs?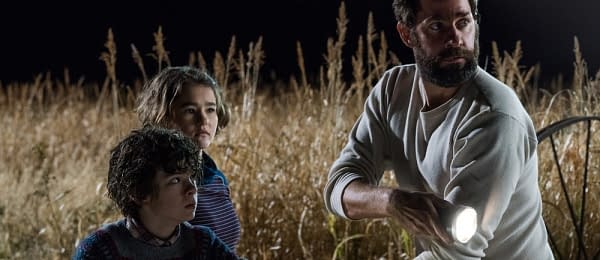 My guess? A combination of prequel and flash-forward. I think they explore more of the family's life before/right at the beginning of the alien invasion, and then the story flashes forward to Blunt and the kids on the run, killing aliens and spreading the word on how to beat them. Or I may be way off. Who knows, and it is cool that we don't know much right now.
A Quiet Place 2 opens in theaters on March 20, 2020.