Ambulance Releases Digitally May 23, 4K Ultra HD/Blu-ray™/DVD June 14
Last month, Michael Bay released Ambulance, which rolled into theaters with pretty good reviews and a modest $40 million budget. That seems like everything that a movie needs to be a success these days, and maybe before the pandemic, it would have been. However, the film didn't do that well. Instead, it only made just over $50 million at the worldwide box office, and if it broke even, that would be a surprise. Now, a little over a month later, Universal has announced that Ambulance will be available to own on Digital on May 23, 2022, and on4K Ultra HD, Blu-ray™, and DVD on June 14, 2022, from Universal Pictures Home Entertainment. Below we have the art, a full summary of the movie, and a list of the special features.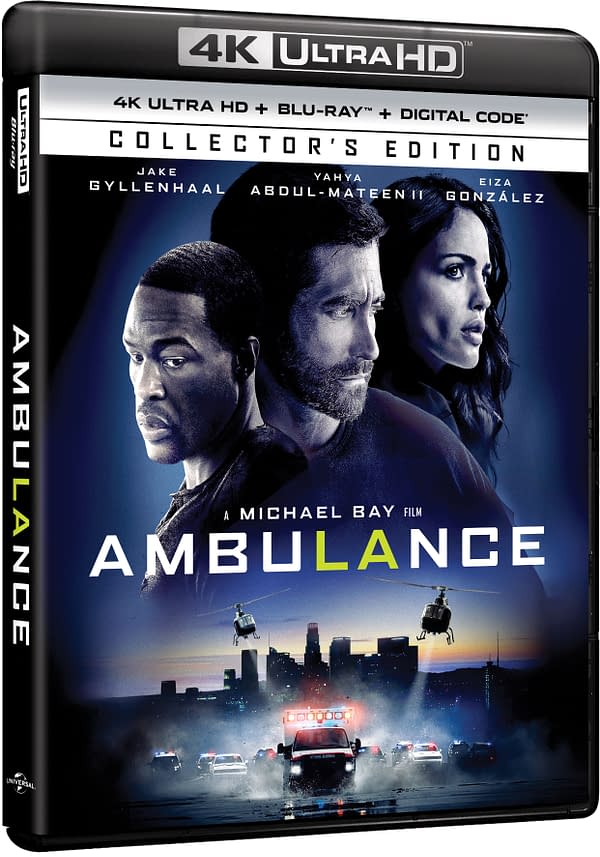 Ambulance Summary: Over one day across the streets of L.A., three lives will change forever. In this breakneck thriller from director-producer Michael Bay, decorated veteran Will Sharp (Emmy winner Yahya Abdul-Mateen II, Candyman, The Matrix Resurrections), desperate for money to cover his wife's medical bills, asks for help from the one person he knows he shouldn't—his adoptive brother Danny (Oscar® nominee Jake Gyllenhaal, Zodiac, Spider-Man: Far From Home). A charismatic career criminal, Danny instead offers him a score: the biggest bank heist in Los Angeles history: $32 million. With his wife's survival on the line, Will can't say no.
But when their getaway goes spectacularly wrong, the desperate brothers hijack an ambulance with a wounded cop clinging to life and ace EMT Cam Thompson (Eiza González, Fast & Furious Presents: Hobbs & Shaw, Baby Driver) onboard. In a high-speed pursuit that never stops, Will and Danny must evade a massive, city-wide law enforcement response, keep their hostages alive, and somehow try not to kill each other, all while executing the most insane escape L.A. has ever seen. Ambulance, directed by Michael Bay, stars Jake Gyllenhaal, Yahya Abdul-Mateen II, and Eiza González.
BONUS FEATURES ON DIGITAL, 4K UHD, BLU-RAY™, AND DVD FOR YOUR COLLECTION:
BAYHEM –Jake Gyllenhaal, Yahya Abdul-Mateen II, EizaGonzálezand crew discuss what it's like to work on a Michael Bay set as viewers watch the legend himself masterfully conduct the mayhem.
PEDAL TO THE METAL-A look at how Michael Bay took his car chase craft to a whole other level for AMBULANCE.
AERIAL ASSAULT-Learn how the breath-taking, heart-stopping aerial images in AMBULANCE were captured.•
FINDING AMBULANCE*-Filmmakers and cast discuss the genesis of AMBULANCE and what drew them to the project.
CHASE CAPITAL OF THE WORLD*-Jake Gyllenhaal, Yahya Abdul-Mateen II, Eiza Gonzálezand crew discuss how LA's endless miles of highways and sprawling streets became a character in the film and the perfect location for AMBULANCE.
A TRIBUTE TO FIRST RESPONDERS-Jake Gyllenhaal and Eiza González talk about their growing understanding, respect, and gratitude for first responders.
*Exclusive to 4K UHD and Blu-ray™